Congratulations to the 2020 Master of Science in Real Estate Cohort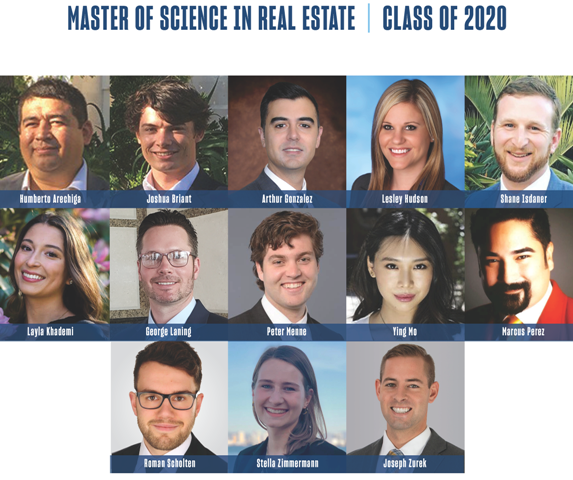 The University of San Diego School of Business and the Burnham-Moores Center for Real Estate congratulate the Master of Science in Real Estate (MSRE) class of 2020.
This MSRE cohort comprised a diverse group of students, ranging from military veterans, students working for family businesses, entrepreneurs and individuals in accounting, law, banking, trading and the fashion and fitness industries.
The spring semester was full of surprises, with COVID-19 preventing several graduate real estate teams from attending events and competitions. The MIPIM team, comprised of Arthur Gonzalez '20 MSRE, Brian Jacobs '21 MSRE, Frank Karako '21 MSRE and Layla Khademi '20 MSRE, curated real estate blogs during the fall and spring in preparation for MIPIM (the largest real estate conference in the world), only to learn that the conference, which is held annually in Cannes, France, was cancelled/postponed.
Typically, the MIPIM conference gathers around 26,800 industry professionals for a four-day exhibition; nevertheless, the students produced several insightful blogs that were published on the MIPIM World Blog, including but not limited to Layla Khademi's piece "Millennials: A Disruptive New Force in the Home-Buying Market," Arthur Gonzalez's blog "Property Technology Innovations & Solutions for the Future of Real Estate Developers, Investors & Owners" and many more. You can see more blogs from Frank Karako and Brian Jacobs by viewing their MIPIM World profiles.
A team of MSRE students, comprised of Joshua Briant '20 MSRE, Lesley Hudson '20 MSRE, Shane Isdaner '20 MSRE, Layla Khademi '20 MSRE and Tobias Lopez '21 MSRE, was getting ready for a weekend-long real estate competition against the University of California, Irvine in late March, when it learned that this first annual competition was also cancelled due to COVID-19 concerns. Students from UCI's Paul Merage School of Business Center for Real Estate and USD's Burnham-Moores Center for Real Estate were set to compete head-to-head in a real estate challenge on the highest and best use for a proposed site. The Burnham-Moores Center also created a special promo video titled "This is USD Real Estate" for the competition.
The ARGUS University Challenge took place again this year and the teams were given an extension until May 1. The USD team comprised of Alexander Allione '21 MSRE, Humberto Arechiga '20 MSRE, Peter Menne '20 MSRE, Roman Scholten '20 MSRE and Stella Zimmermann '20 MSRE. This year's case was titled "For Your Eyes Only," which presented teams with a fictitious property in the European secondary city of Euroville. The team's mission was to prepare an investment recommendation for the Skyfall property and were required to include viable options and strategies with relevant assumptions. More than 36 schools from around the world competed in this 2020 challenge (some schools with multiple teams). The USD team placed third in this competition this year.

This cohort has received some amazing job offers, has held educative internships and others have and will continue to work in a full-time capacity at the following companies: CBRE; Cushman & Wakefield; IDS Real Estate; KPMG; KIMCO; Pacifica Companies; Realm; Reid, Sahm, Isaacs & Schmelzlen LLP; The O'Rielly Group, LLC; Verdani Partners; family businesses and many more.
The MSRE cohort also participates each year in the Realizing Returns University Race which is a portfolio competition requiring teams to invest $1 billion in select property types, regions, and forms of ownership to realize the highest returns possible over one year. Over the past year, the MSRE cohort invested heavily in industrial with a special emphasis on e-commerce, and they did remarkably well, coming in a close second place out of twenty-nine teams.
Several graduate students in this cohort earned dual degrees, including Ying "Paris" Mo, earning an MBA/MSRE; Peter Menne, earning an MBA/MSRE; Roman Scholten, earning an MSRE/MSc; and Stella Zimmermann, earning an MSRE/MSc.
The 2020 MSRE cohort enjoys a variety of interests including architecture, beaches, baseball, boxing, camping, cultures, hiking, food, gardening, golfing, languages, literature, off-roading, painting, photography, politics, running, surfing, waterskiing, snowboarding, soccer, tennis, traveling, wine, working on cars, wrestling, sailing and spending time with family, friends and pets.
Seven part-time MSRE students will return in the fall to graduate with the 2021 class. We look forward to welcoming them back and to meeting the 2021 cohort!
For more information about the University of San Diego School of Business Master of Science in Real Estate program, contact Catherine Northcutt, community outreach and recruitment manager for the MSRE program at (619) 260-8803.
Map
5998 Alcalá Park
San Diego, CA 92110