Global MBA Alumni Speak at the Ahlers Center for International Business Virtual Speaker Series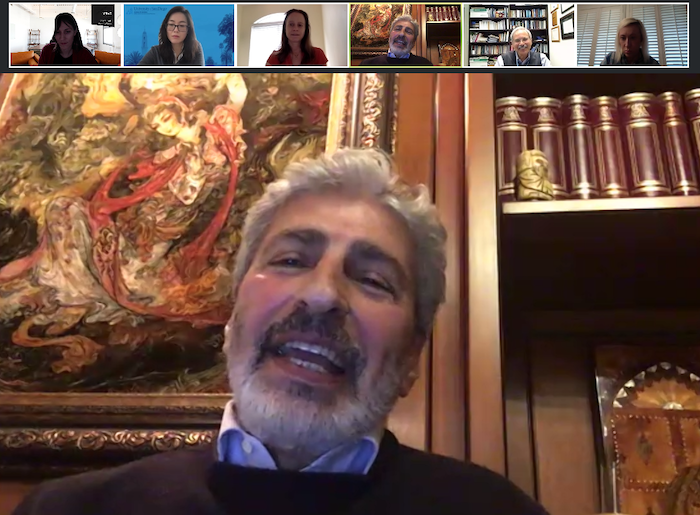 begin quote

Ali Reza Arabnia '87 (MBA) speaks at the Ahlers Center's Virtual International Speaker Series
Once the majority of campus operations at the University of San Diego went remote, the Ahlers Center for International Business moved quickly to design and deliver relevant and robust learning opportunities for students to enrich their educational experiences beyond the virtual classroom. Just a couple of weeks ago, the Ahlers Center launched a virtual version of its International Business Speaker Series which invites global industry leaders to speak on various business hot topics.
"We have many engaging, impactful alumni around the world confronting this rapidly evolving global health and economic situation, so we decided to offer a series of virtual presentations featuring our MBA alumni from various industries as they discuss how they are 'Managing Under Uncertainty,'" stated Dr. Denise Dimon, associate provost for international affairs and director of the Ahlers Center.
Turnout at the virtual International Business Speaker Series has been outstanding with the first two presentations attended by nearly 100 people each. These past two weeks, we heard from Ali Reza Arabnia '87 (MBA), group chairman, president and CEO of GeicoTaikisha Group in Italy and Brett Hiltscher '11 (MBA), senior director of speed at Adidas. Both speakers discussed how their companies handle volatility and disruption including ways they have pivoted during the COVID-19 pandemic.
Arabnia is no stranger to crisis having also successfully led GeicoTaikisha through the Eurozone financial crisis. The Italian government even named him a Cavaliere del Lavoro, or Knight of Labor, for his efforts. During his presentation, he shared these words of wisdom, "Let people believe in themselves and not be afraid to make decisions, even imperfect ones. In each crisis, our company came out stronger than before."
The next speaker in the series is Patricio Keegan '18 (MBA), global marketing director for Tecme, an international company established in Argentina that produces high-end mechanical ventilators for hospitals in more than 50 countries. The final presentation will feature Maria Lack '15 (MBA), project implementation and client support and training manager at QueBIT Consulting.
To learn more and register, please visit https://www.sandiego.edu/AhlersSpeakerSeries.
Map
5998 Alcalá Park
San Diego, CA 92110