Sneak Peek into Applied Negotiations in the New Normal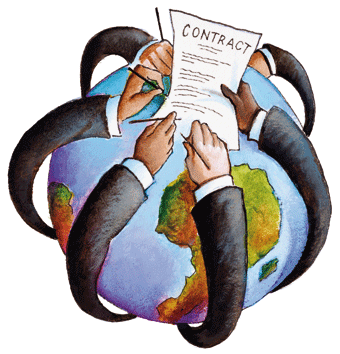 Moving to online classes during the COVID-19 crisis has been a challenge for both students and professors. But an international business negotiation class shows how both parties are making it work.
The undergraduate honors course taught by USD School of Business Law Professors Craig and Linda Barkacs always includes a salary negotiation and other advanced business-related exercises replete with leadership, ethical, and cross-cultural issues.
The course "is experiential and highly interactive – very much a learn-by-doing class that was not at all designed to go online," said Linda. "Moreover, the negotiation simulations we run grow increasingly complex as the semester progresses."
But with the help of USD School of Business "tech guru" Bret Beyers, the two moved quickly to transition the class to Zoom and Blackboard formats.
"Our goal was to model for the students a positive and adaptable mindset," Linda explained. "In the real world things often don't go as planned, so this was a perfect opportunity for a learning moment."
To fit the online format, class role sheets were modified and distributed online—since each class session includes negotiation exercises that are based on real-life scenarios, one can imagine how quickly this had to be transformed to fit the new format. The two professors also provided explicit instructions as to how students were to prepare and coordinate as a team both prior to and during the actual negotiations that were to take place during the Zoom classroom using breakout rooms.
Students have adjusted to online exercises and the results have been impressive.
As the class moves further into the semester, students are required to create their own exercises that they run during the class. Now the challenge for students was to quickly pivot and figure out how to work in the new class format and run their exercises online. One team responded by creating an exercise incorporating a pandemic in the year 2035. A cure has been created and it's up to them to negotiate how that cure will be distributed to countries around the globe. But due to the pandemic's severity, no face-to-face meetings will be allowed and they will be required to use "an outdated software (Zoom) known to add a layer of complexity" to the negotiations.
"Not only are students incorporating current events, they are adapting to Zoom and online technology in a very clever and creative way," said Craig.
Both professors say they have learned a lot from the experience as well.
With no experience teaching online, "we had to learn Blackboard and Zoom and then transition all of our courses online in a little more than a week," concluded Linda.
"If anyone had told me that was possible, I would have laughed. But we did it. The students were upended physically and sent home, then tasked with adapting to various levels of expertise and expectations from their professors. Somehow they are not only doing it but doing it well. What a great life lesson in overcoming adversity. We could not be more proud of them."
— Liz Harman
Map
5998 Alcalá Park
San Diego, CA 92110