A Unique Virtual Experience Welcomes Incoming Torero Venture Lab Cohort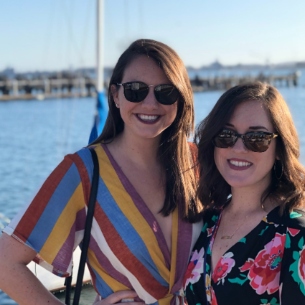 begin quote

Keep an open mind and listen to all the feedback that comes your way. You don't have to follow everyone's advice, but at least hear it. Really utilize all the tools provided to you - communicate early and often.
On April 7, a diverse group of students from different schools including the USD School of Business, Shiley-Marcos School of Engineering and the School of Leadership and Education Sciences who are pursuing various degrees such as computer science, finance and marketing at both the undergraduate and graduate levels "met" virtually for the first time. This was to pitch their venture ideas in front of judges and mentors to be accepted into the Torero Ventures Lab for Fall 2020.
This unique virtual experience allowed students to pitch for 3 - 5 minutes on:
a) the problem they were solving
b) a solution
c) the work that had been done to-date to bring the idea to fruition
The Torero Ventures Lab (TVL) is a class co-taught by Priya Kannan-Narasimhan, the founding director of the Entrepreneurship and Innovation Catalyzer and a faculty member of the USD School of Business, and Jeff Teza, an entrepreneur-in-residence from the Shiley-Marcos School of Engineering.
The TVL class provides USD students the unique opportunity to test their business ideas before bringing them to market. The focus of the lab is customer discovery and prototyping. Students work on creating prototypes and conducting market research to discover their first set of early adopter customers, moving them one step closer to launching their ventures. This class is supported by a strategic grant as a part of USD's Envisioning 2024 efforts through the Office of Institutional Effectiveness and Strategic Initiative.
Two audience members watching the pitches were Amanda Young Greenwald and Allie Ziesmer who are both Full-Time MBA students graduating this May and alumnae of the Fall 2019 TVL class. Their venture, ForBetter, is an online wedding planning platform that helps socially and environmentally conscious couples plan their weddings by connecting them to vendors and ideas that align with their values. We (virtually) sat down with them to ask about their experience:
What are the biggest lessons you learned from participating in TVL?
Amanda: We entered this class in the idea stage with a proposed solution to a personal problem and pivoted/iterated several times. Try not to be too attached to how you picture your idea in your head. LISTEN to your target customers because patterns will emerge that will guide your efforts forward and ensure you're asking the right questions.
Allie: Don't get too attached to your original idea, pivoting is bound to happen and you need to be open and willing to make changes. Interview as many potential users as possible. Starting your own business is a lot of work and it definitely won't happen overnight, but there are always people willing to help so don't be afraid to ask!
Do you think you will be able to use what you learned in your future career? If so, how?
Amanda: Absolutely. I've always been someone who asks "what if?" and who looks for creative ways to solve problems. I think the tools and experiences I've gained from TVL can be applied to my job in operations at a startup company as well as to a venture idea of my own. The ability to ask the right questions opens up so many options when you're looking for a solution.
Allie: Yes, I think TVL was full of many useful learning lessons. One of them being that you should not be afraid to ask for help because you will always underestimate people's willingness to say yes. We found one of our mentors by connecting and sending a message on LinkedIn. Amanda and I were shocked with how fast he replied saying he would meet with us! And he ended up being extremely helpful over the course of the semester.
Do you have advice for students coming into TVL in Fall 2020?
Amanda: Keep an open mind and listen to all the feedback that comes your way. You don't have to follow everyone's advice, but at least hear it. Really utilize all the tools provided to you - communicate early and often with the Brink and with your mentors. There is so much support built into the structure of this class and you'll get the most out of it if you really use those resources.
Allie: Be ready to work hard but make sure to have fun! TVL is an amazing opportunity with so many resources, definitely make sure to take advantage of it all. And don't be afraid of "failing." There is no right or wrong answer. The class will be a lot of work but it is so incredibly rewarding at the end!
For questions regarding the Torero Ventures Lab, please contact Dr. Priya Kannan-Narasimhan.
Map
5998 Alcalá Park
San Diego, CA 92110