Strengthening our Torero Community Through Torero Businesses Support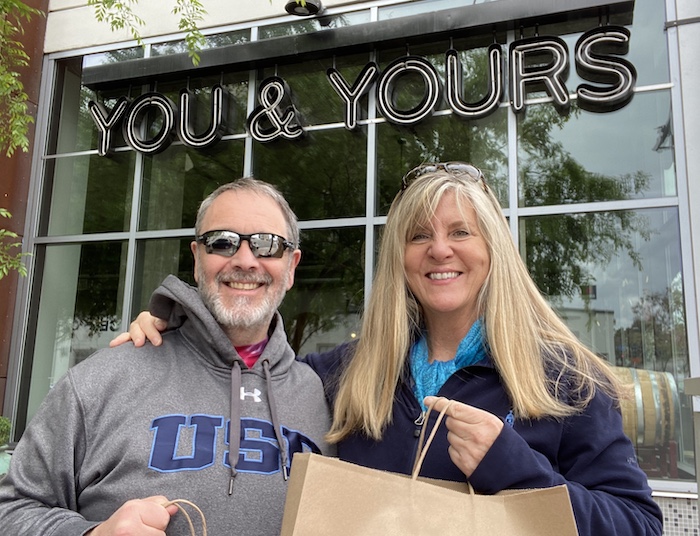 begin quote

Our alumni are the backbone of the business school and USD. Now is the time for the USD community to support them and show them some Torero love.
From breweries and restaurants to software and tax firms, USD School of Business alumni-owned firms are everywhere and there's never been a better time to support them.
You and Yours Distilling Co., Eppig Brewing and Holy Matcha are a few of the food and beverage establishments operated by Torero alumni in San Diego and open for takeout or delivery during the coronavirus crisis.
On April 5, Bridget Breitenberg, who oversees alumni relations for the School of Business and Supply Chain Management Professor Simon Croom had the opportunity to pick up brunch from You and Yours.
The pair ordered Spring Quiche, Bloody Mary Toast and Sunday Waffles with homemade lemon curd and fresh raspberry sauce. "Everything was really delicious and well made," reported Breitenberg. "We enjoyed every bite."
Moreover, Laura Johnson '14 (BBA), You and Yours' owner and founder, "was thrilled and grateful" to have them as customers, she added.
Other alumni-owned establishments operating during this challenging time include Giovanni's Restaurant across the street from Alcala West on Linda Vista Road and the Kensington Brewing Company.
"We are increasing our canning lineup and are offering our full menu in cans for pickup," said Zach Knipe '03 (BBA/BA), owner of Kensington Brewing. The brewery will deliver within 10 miles if customers purchase a case and has pre-pay pick ups for contactless delivery. They also are offering Take N'Bake pizzas with their beer.
"Our alumni are the backbone of the business school and USD," Breitenberg said. "They're some of the most creative and entrepreneurial business leaders and managers working today and always there for us as donors, mentors and guest speakers. Now is the time for the USD community to support them and show them some Torero love."
By reaching out to alumni-owned enterprises, Toreros often can support the wider community as well.
Vizer, for example, is an app started by Samantha Pantazopoulos '17 (BBA) that rewards people for exercising by donating meals to the San Diego Food Bank. Users also receive points for personal rewards from local businesses.
Mint Studio is a corporate event and experience curator during normal times. Now, said owner Jayme Sanders '04 (BA) "we have pivoted quickly to support the need for human connection and sense of community through this isolation" offering complimentary virtual workshops focused on wellness, creative arts, culinary and gardening that can be done at home. We also developed a series of 'Stay Connected' gifting that supports local artisans and small businesses."
Sparks Gallery has moved online to display beautiful works of art. Owner Sonya (Wilson) Sparks '05 (BBA) and Zach Telles '19 (BBA/BA) are working to accommodate clients and artists during the closure of the gallery space.
Other USD School of Business alumni-owned businesses include InnovaSystems International LLC, founded by Chris Wallerman '08 (MSEL) that provides readiness, data warehousing and other software to the military and consistently has been voted one of the best places to work by the San Diego Business Journal. His other firm, Inspire Software, offers ways to motivate and inspire employees during these difficult times.
Ronson Shamoun is a triple USD alumnus and founder of RJS Law, a full-service tax law firm that is assisting clients with obtaining funds through the CARES (Coronavirus Aid, Relief and Economic Security) Act. The firm has been named San Diego's best tax law firm for five years in a row by the San Diego Union-Tribune.
Shamoun also offered these inspiring words to the Torero community. "Embrace the moment," he said. "Take it all in and embrace and it and enjoy it. Now, of course, it's difficult to bring enjoyment in these times of uncertainty but I can attest that many have found new passions, a newfound love for the simpler things in life and to focus on new things we have learned. Keep strong and keep your faith and trust in God."
Go to the Alumni Hall of Honor to see more prominent USD School of Business alumni. To add your USD business or organization to the USD directory of alumni-owned businesses or if you are alumni looking to support those businesses, click here.
Map
5998 Alcalá Park
San Diego, CA 92110