Undergraduate Business Programs Ranked #2 in California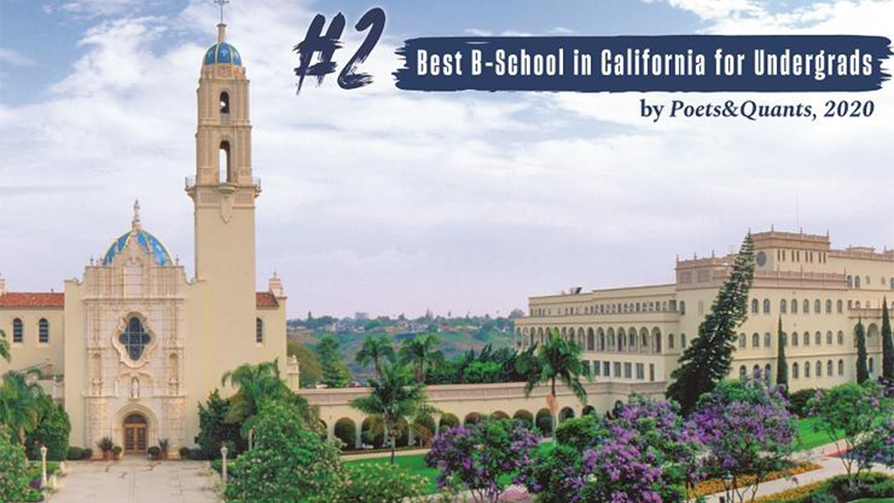 The University of San Diego School of Business is now ranked the second-highest undergraduate business school in California, according to the latest ranking from Poets & Quants for Undergrads, a leading news site for business education.
After jumping another five spots to #42 in the nation, the school remains a top-50 undergraduate business school in the U.S. for the third year in a row and the only one from San Diego out of 97 schools. The ranking is based equally on admission standards, academic experience from alumni surveys, and career/employment outcomes. The USD School of Business reported that 96 percent of recent undergraduates found jobs within 90 days of graduation.
"We are honored to receive this recognition that reflects the success of our graduates and the high caliber of our faculty," said USD School of Business Associate Dean for Undergraduate Programs Stephen Conroy. "We are committed to teaching business as a force for good through a values-based, globally relevant curriculum with opportunities for internships, networking and study abroad."
"This is good news for San Diego as well," he added. "We've got a vibrant business community" with lots of start-up and entrepreneurial firms looking for employees. Together, USD and the local business environment provide "an optimal mix of learning and engagement for our students."
Poets&Quants is led by former BusinessWeek Executive Editor John A. Byrne. Click here to see the complete list and its methodology. For more information on USD's business programs, go to www.sandiego.edu/business.
Map
5998 Alcalá Park
San Diego, CA 92110