10th Annual NAIOP University Challenge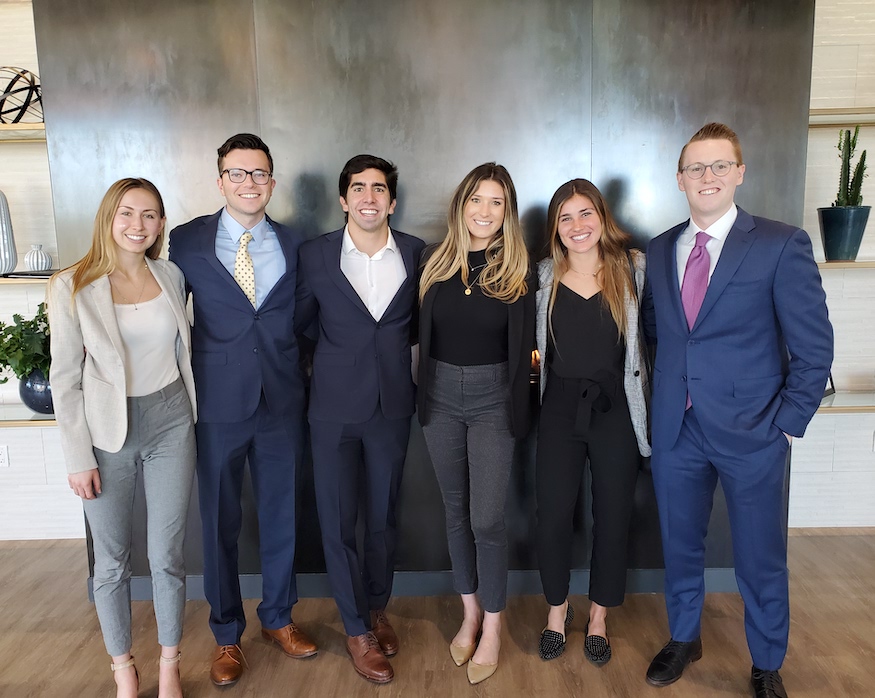 The 10th Annual NAIOP University Challenge took place on April 22 and 23 in a virtual format this year via Zoom due to COVID-19. Real estate teams from the University of San Diego (USD), University of California, San Diego (UCSD) and San Diego State University (SDSU) compete annually in this highest and best use real estate case competition.
The 2020 USD undergraduate NAIOP team, comprised of Shannon Bergen '20, Lauren Classon '20, Lukas "Jack" Foy '20, Timothy "Tim" Hemmesmeier '20, Hannah Schraeger '20 and Nick Toffoli '20. The USD team was defending USD's first place title in 2019 and 2017. Team advisors included Stath Karras, executive director of the Burnham-Moores Center for Real Estate, and Jacob Schwartz, vice president of Urban Housing Partners Inc.
Each team was required to analyze the highest and best use of a proposed development site in San Diego County. For the 2020 NAIOP challenge, the selected site was Tecolote Village, a mixed-use property located at the Tecolote Road Trolley Station at the Southwest quadrant of West Morena Boulevard and Tecolote Drive, just east of I-5.
On April 22, each team presented separately before a panel of industry judges via Zoom. A rigorous question and answer session followed. On April 23, all three teams presented their cases again, simultaneously, in front of a live Zoom audience of approximately 75 people. The competition was very close and the students did an amazing job. UCSD took first place this year.
Map
5998 Alcalá Park
San Diego, CA 92110