Major League Soccer Drafts Finance Student Miguel Berry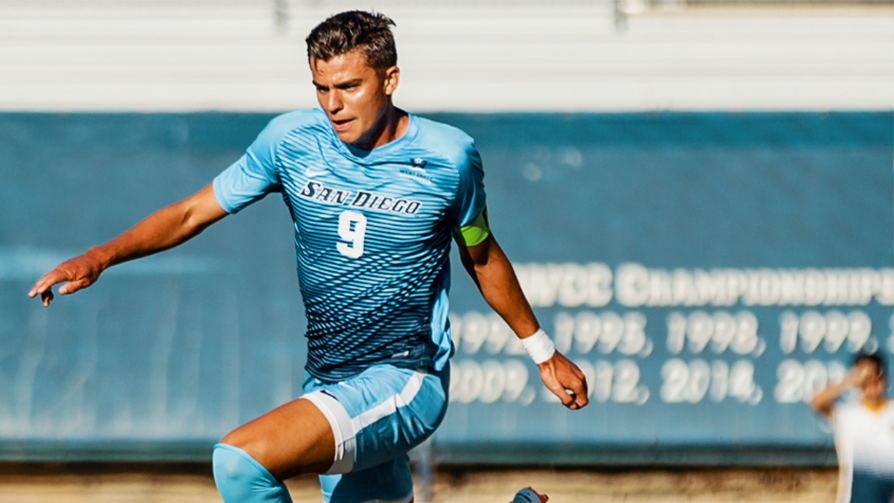 begin quote

A lot of guys talk about pushing themselves as hard as they can. Miguel is the kind of guy who maximizes his potential. He kind of has that work ethic like Kawhi Leonard.
Miguel Berry was born in soccer-mad Spain and for as long as he can remember, he dreamed of playing the game professionally.
"From the time I was 2 or 3," said Berry, an outgoing University of San Diego senior. "People don't believe me, but that's what my parents told me. As soon as I started playing, it was just so ingrained in the culture. You see (professional players) and you want to be them. I remember always wanting to be like them."
Berry's dream is about to come true. The Columbus Crew made Berry the seventh player selected in last week's MLS SuperDraft. Berry followed the draft via YouTube from his apartment across the street from the USD campus.

He had been in contact with other MLS clubs leading up to the draft. But come draft morning, Berry got a call from his agent, then a text from USD head coach Brian Quinn, indicating that he was on the Crew's radar.

"I was kind of in shock," said Berry, a 6-foot-3 forward with a keen ability to put the ball in the back of the net. "You hear things about teams leading up to the draft, but they were never one interested. They did a good job of keeping things quiet."

Berry's life is about to unfold at a whirlwind pace. He's scheduled to fly to Columbus, Ohio, for a physical and meet team officials. Soon after that the Crew opens training camp, which will be split between San Diego, Cancun and Phoenix. After training camp, Berry will either sign a contract with the Crew or possibly join a USL club before working his way back to the MLS roster. The Crew do not have an affiliate in the USL, which means they can loan out players to any of the 35 teams at the USL Championship level (the same one that the upstart San Diego Loyal compete in).

The Crew's first preseason game is February 15 with the regular season opening March 1.

"Obviously, it's an exciting time," said Berry. "It's crazy to think this happened."

The Crew finished 10th out of 12 teams in the Eastern Conference last season with a 10-16-8 record. The team's 39 goals were the third fewest in the MLS, meaning Berry's skills are in dire need.

"Talking with the coach, it's clear that's what they're looking for," Berry said. "Obviously, that's my job on the field. I'm looking forward to contributing and doing that."

Berry is coming off one of the most successful seasons in USD soccer history. His 17 goals were tied for the most in the Division I regular season. His 42 points led the nation.

All his offensive production helped San Diego notch 12 wins, the most by the program since 2012.

Berry, who moved to Southern California when he was 8 and graduated from Poway High, was named an All-American by United Soccer Coaches. He was also the West Coast Conference's co-Player of the Year and semifinalist for national player of the year.

Epitomizing the San Diego scholar-athlete, Berry became the first Torero to earn Scholar All-American First Team honors from the United Soccer Coaches. Berry graduated in December with a degree in Finance, earning a 3.36 GPA.

Berry matched Guillermo Jara in becoming the highest Torero selected in the MLS Draft. Jara was taken seventh by the Galaxy in 1996.

Quinn is confident Berry will leave his imprint on the professional game.

"I don't doubt it for a minute," said Quinn. "He's got real good physical tools, his size and his strength. He's a big guy for soccer. Secondly, he's got a grit, an aptitude for wanting to improve.

"A lot of guys talk about pushing themselves as hard as they can. Miguel is the kind of guy who maximizes his potential. He kind of has that work ethic like Kawhi Leonard, where he does as much in the offseason as he does in season.

"That's not something he has to acquire. He's done that stuff on his own regularly since he arrived at USD."
Map
5998 Alcalá Park
San Diego, CA 92110