Geraldine Ridaura '11: Founder & CEO of San Diego Hotspot, Holy Matcha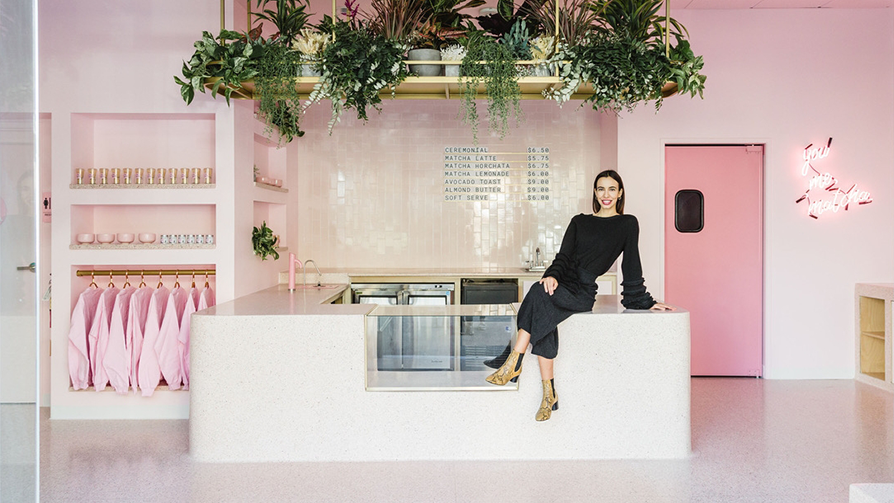 begin quote

I thought, one day I'll be a CFO or COO -- not the CEO of a company I built. As a new business owner, I didn't know exactly what I was doing, but I knew matcha. I took it one day at a time and gradually became more confident in running a business.
When Geraldine Ridaura was pursuing her degree in business administration at the University of San Diego, turning the ancient Japanese ritual of matcha into a profitable business seemed about as likely as actually attending an ancient Japanese tea ceremony.
"At the time, I didn't fully realize how the leadership principles being taught at USD would apply to me," she said. "I thought, maybe one day I'll be a CFO or COO of a company—not necessarily the CEO of a company I built."
Ridaura is the founder and CEO of San Diego's popular Holy Matcha, a Japanese tea café serving matcha in both its traditional form and with Ridaura's own cultural twist. (Her matcha horchata, she says, has been known to turn even the least adventurous palettes into matcha converts.)
A native of Mexico City, Ridaura moved to San Diego to attend USD to pursue her undergraduate degree. In true college form, her coffee consumption was at an all-time high, which began to take a toll on her body. After her doctor recommended making the switch to tea, Ridaura discovered matcha, a green tea variant as rich in vitamins and antioxidants as it is in caffeine.
"I had read about the benefits of matcha, but until I actually tried it for myself and started feeling better, I didn't truly understand the difference," she said. "It really blew my mind."
Widely regarded as an art form in itself, the process of making matcha is considerably more labor-intensive than brewing coffee, requiring the right balance of sifting and whisking to achieve the perfectly-frothed brew. One day, as Ridaura was balancing matcha-making with her desk job at an insurance company, a lightbulb went off — she would open her own matcha café.
"I knew it wasn't going to be easy and that I had to work extra hard to make up for my zero experience in the food industry and in starting a business. So, I grabbed my college laptop, pulled up an international marketing plan I created at USD and got to work."
Once Ridaura made the decision to start her own business, something told her she needed to move fast. Because she had been saving since college, she was in a position where she was able to quit her job and focus on the venture full time. The process, she admits, was largely self-taught — scouting her first location, for example, involved parking outside of the building for two hours and keeping a handwritten tally of passing foot traffic. And while it may not have been evident at that moment, she was applying perhaps the most critical lesson she learned during her time at USD.
"When it came time to negotiate the lease, I had the numbers to substantiate the market value," she said. "And that was something that came from my business negotiation class at USD. Professor Robin McCoy taught us to always know our numbers — and as an entrepreneur, that's been an incredibly valuable piece of advice."
Ridaura left her insurance job in August 2016 and by March 2017, she had opened her first Holy Matcha location in North Park. As she navigated new terrain as a business owner, she found herself following a slightly less technical — but nonetheless valuable — piece of advice from Professor McCoy: "fake it 'til you make it."
"As a new business owner, I didn't know exactly what I was doing, but I knew matcha," she said. "I took it one day at a time and gradually became more confident in running a business, managing people and speaking English, as it's my second language."
Innovation and entrepreneurship are emphasized heavily throughout the USD School of Business and its degree programs, with various courses, events and initiatives focused on empowering aspiring entrepreneurs to pursue their own business ventures. And as Ridaura can attest, one doesn't necessarily need to enroll as a budding entrepreneur to leave with an entrepreneurial mindset.
"Today, Holy Matcha is proof of what one can do as an entrepreneur if they set their mind to it -- and that to me is success," she said. "USD provided me with the foundation to successfully pivot from the corporate world to entrepreneurship. It's what prepared me for leadership, and now I'm leading my own company. That is all USD."
Ridaura opened her second Holy Matcha location in San Diego's East Village in March 2019. Visit www.holymatchasd.com to learn more.
Map
5998 Alcalá Park
San Diego, CA 92110