U.S. News & World Report Ranks USD Master's in Supply Chain Management #2 Best Online Graduate Program for Veterans in All of California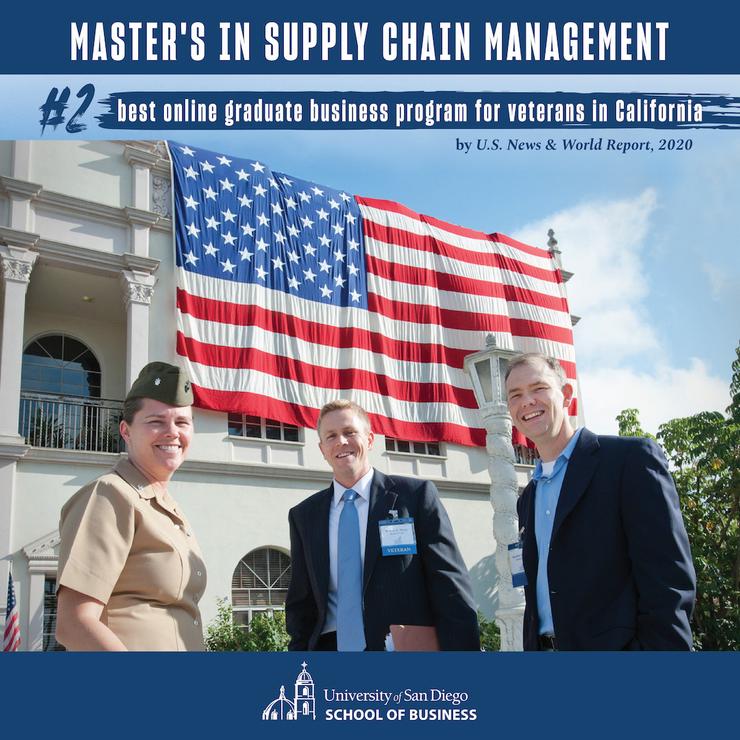 The University of San Diego School of Business master's in supply chain management ranks second for online graduate business programs for veterans in California and is tied for 22nd in the nation, according to U.S. News & World Report.
Veterans and active-duty service members gain the most from distance education that is "affordable, accessible and reputable," said U.S. News in announcing the latest rankings today (Jan. 14).
"We are honored to receive this recognition that reflects USD's commitment to veterans and their post-military educational and career success," said Joel Sutherland, managing director of USD's Supply Chain Management Institute.
"Supply chain management is a "natural choice" for veterans who often have experience in logistics and technology," Sutherland said. "Our program expands on that to offer the latest in world-class practices in cost management, negotiations, procurement, sustainability and other topics to efficiently source, produce, and deliver goods and services."
To qualify for U.S. News' rankings for veterans, programs must first be ranked among the top half of schools in its Best Online Programs category, participate in the Yellow Ribbon Program for financial aid for veterans, and have a critical mass of students with military backgrounds.
Through a flexible, mostly online format, students can complete the master's in supply chain management in 22 months and six visits to the USD campus.
Map
5998 Alcalá Park
San Diego, CA 92110