USD Mediation Team Competes in the 20th Annual International Intercollegiate Mediation Tournament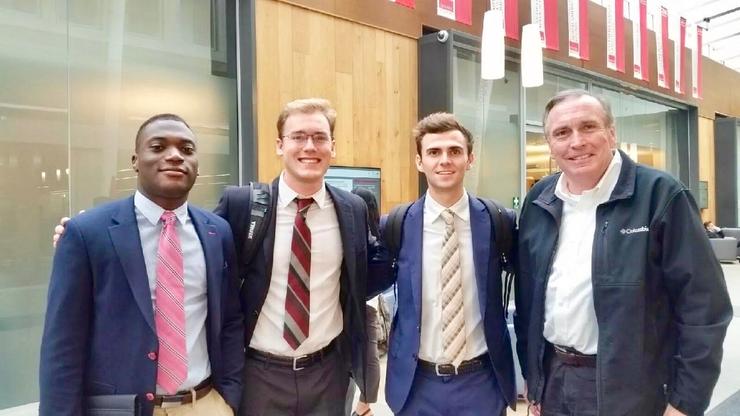 Congratulations to the University of San Diego School of Business Mediation Team. Zion Reid, Andrew Brooksbank, and Alex Oberman, coached by Clinical Professor of Business Law and Ethics Richard Custin, competed in the 2019 20th Annual International Intercollegiate Mediation Tournament held at Osgoode Hall, York University, Toronto, Canada from November 1-3, 2019.
This championship tournament was sponsored by The International Academy of Dispute Resolution and York University. Zion, Andrew, and Alex earned two top advocate/client awards. Professor Custin's case study, The Sins of the Father, was voted the top mediation case study of the tournament.
"The mediation competition was a tremendous opportunity for our team to employ not only our critical thinking and communication skills, but also core values of USD such as peacemaking," said team member, Alex Oberman (Philosophy, Business Administration minor, '21). "In my opinion, mediation is an exciting facet of law because it exemplifies how compromise and collaboration are crucial to generating solutions to real world problems. One major takeaway I have from this experience is the importance of listening to every available viewpoint before making a decision: every voice matters."
Map
5998 Alcalá Park
San Diego, CA 92110