Military Women Have a Strong Presence in USD's MBA Program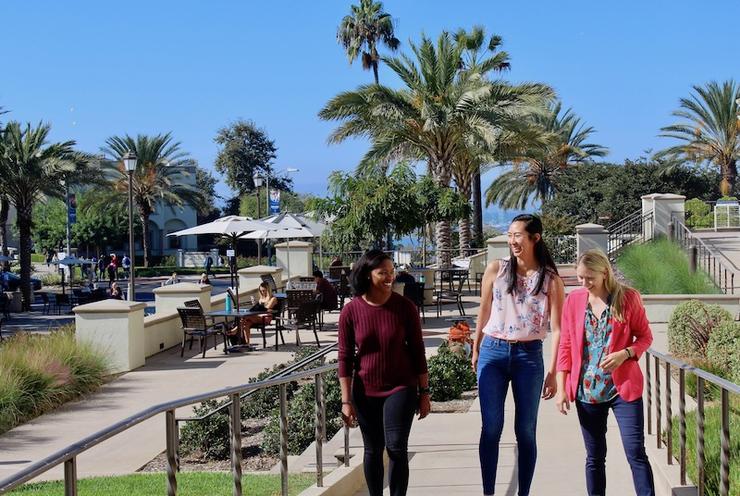 The presence of the U.S. Navy in San Diego is one that helps shape the essence of this city. And the University of San Diego is proud to be an academic destination that provides a supportive environment for local military members through educational benefits including the Yellow Ribbon program and dedicated career services support to those who seek the opportunity to advance their military career or transition to a civilian one.
At the USD School of Business, both enlisted and veteran military members are well represented in our classrooms as they work to transform themselves into business leaders — whether on a naval ship or in the office. We're excited to highlight three exceptional military women who are currently enrolled in our MBA program, working hard to balance full-time lives and full-time studies. Working in a male-dominated industry and studying in a degree program that is underrepresented by women (only 38% of MBA applications in 2018 to U.S. universities were submitted by women) gives these students a unique point of view in the classroom and at work.
Chelsey Olshenske, MBA/MSF Dual Degree '20
My designator in the Navy is a surface warfare officer, or SWO. The simplest way to describe my role is that I drive and fight the ship. I am now spending my shore assignment at the University of San Diego obtaining my MBA/MSF dual degree. I chose USD because I wanted to benefit from the strong network here at as well as study at one of the top business schools in order to gain valuable skillsets that I can utilize during my time in the Navy and beyond. After graduating next summer, I will return to the fleet to conduct my department head tours of duty with an added leadership perspective obtained through my studies and experiences here.
As an active duty naval officer, full-time dual degree candidate, mother and wife, I have had to meticulously balance my responsibilities, duties and obligations in order to remain afloat. I prioritize and schedule everything, building in buffers for unanticipated tasks as well. Success is not solely about working hard, it's about working smart. Often, I "go dark" on communications to ensure that I am present for my family and that they understand they are the source of my ambition, my ultimate priority. I had to explore early on what works for me and understand that I could not have everything, but I could have everything that really matters to me.
Ashly Wisniewski, MBA '21
I am an active duty lieutenant commander and supply officer in the United States Navy, specializing in logistics. As I move up the ranks in the Navy, I've reached a point where it is a requirement to earn a master's degree before being considered for commander. I originally had orders to report to the Naval Postgraduate School in Monterey, California to begin my master's degree. However, after the birth of my daughter in January 2018, I had to seek other options. Given the requirements of my daughter's medical care, I needed to keep my family in San Diego. As a result, I applied for a highly selective program within the Navy Supply Corps that allows for active duty supply officers to earn a fully-funded MBA at a civilian institution.
I chose USD because every interaction I had with the university and administrators was extremely positive. It was more than evident that everyone here truly cares about each student individually and that students were not just numbers. No matter the questions or concerns I had throughout the entire application process, there was always someone that was more than willing to help. Even after commencing my studies on campus, everyone has been more than helpful with coursework and future career planning while I also try to balance time with my family and my commitment to the Navy. I am able to do this, first and foremost, with the support of my husband as a stay-at-home dad to our beautiful daughter, but also by communicating with professors and faculty early on my unique situation as I have had to miss time for my daughter's medical care. In the end, it comes down to time management and my drive to show my daughter that nothing will hold her back.
After graduation, I will be assigned to the aircraft carrier USS Abraham Lincoln (CVN 72) as the assistant supply officer. I will assist in leading a department of over 600 sailors, supporting the ship and carrier air wing in all facets of their logistical requirements. Ultimately, my goal is to take the tools and knowledge that I obtain here at USD and positively impact the sailors that will be placed in my care while also ensuring that we are successful in the missions that we will face together.
Jillianne Planeta, MBA '20
Prior to leaving the Navy in 2018, I was the electrical engineering division officer onboard the mighty aircraft carrier USS Carl Vinson (CVN-70). I am currently a naval reservist officer and work at San Diego Gas and Electric (SDG&E) as a financial and business planner. I am also in the second year of my full-time MBA program at USD with a concentration in finance. I pursued an MBA as a career shift and to expand my own experiences to create new opportunities. Upon graduating, I strive to start a finance or a supply chain career, leveraging both my experiences as an engineering division officer and finance studies at USD.
I chose USD because its principles and ethos most align with the morals and values I carried with me throughout my Navy career. USD also provided me an exceptional amount of financial, career-related, educational, and transitional support. I could not be the person I am now without the extraordinary support of my teachers, advisors, mentors, and the Military and Veteran's Program staff. USD has given me a strong foundation to make this pivot in my life while helping me balance all of my daily obligations from studying full-time to having a part-time career, doing naval reservist work and maintaining family life.
Map
5998 Alcalá Park
San Diego, CA 92110