Burnham-Moores Center Welcomes New Members to Policy Advisory Board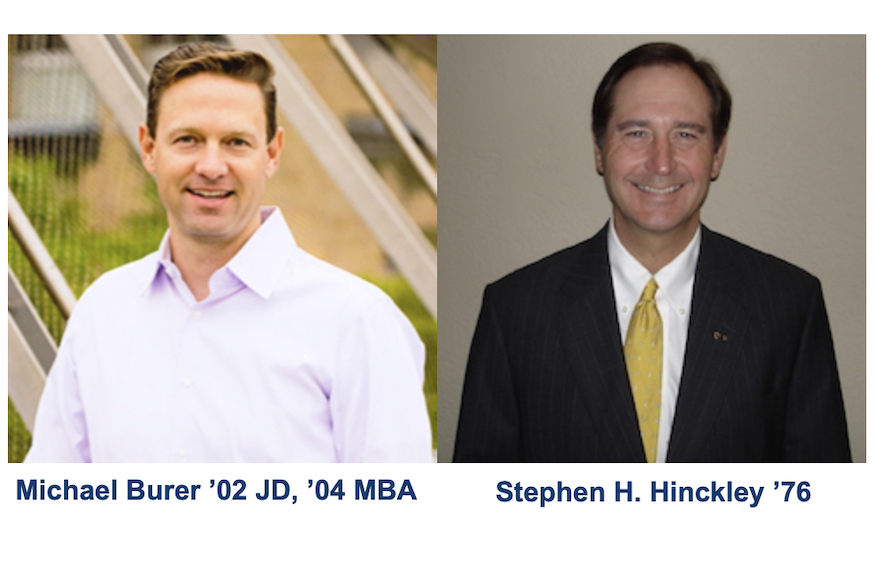 The Burnham-Moores Center for Real Estate (BMC), has announced the appointment of Michael Burer '02 JD, '04 MBA of Parallel Capital Partners and Stephen (Steve) H. Hinckley '76 of LandCap Investment Partners, as the newest members to its policy advisory board (PAB). The PAB provides policy guidance and financial support to the BMC and real estate students at USD. With these two additions, the BMC PAB is comprised of 50 members and six Emeritus members.
About Michael Burer
Michael is the chief financial officer and principal of Parallel Capital Partners. He is in charge of all aspects of financial management of the company. He has 17 years of experience in commercial real estate and is instrumental in acquisition underwriting, debt and equity capitalization strategy, joint venture and lender reporting, along with value optimization plan (VOP) implementation.
About Steve Hinckley
Steve is founder and chief executive officer of LandCap Investment Partners (LCIP), a west coast boutique real investment company focused on the acquisition, underwriting, re-entitlement and disposition of distressed real estate and its core targeted assets include land, lots, multifamily, residential/commercial mixed-use assets requiring new business plans or repurposing. Steve has 40 years of entrepreneurial experience and C-level corporate positions, including mortgage banking, private equity and personal investing. He was the principal founder of two real estate-related financial services companies that were later sold to commercial banks. He and his wife Susan, of 40 years, reside in Carlsbad and have three grown sons, Rob, Jeff and Mike. Steve and Susan also dedicate time to The Hinckley Family Foundation, a charity formed in 2014 to support philanthropy in education, housing, health, veteran and children's causes. Steve received a bachelor's in sociology and a minor in psychology from the University of San Diego and was the recipient of a baseball scholarship while at USD.
Map
5998 Alcalá Park
San Diego, CA 92110