From Fashion to Finance, Meet the Fowler Business Concept Challenge Semi-Finalists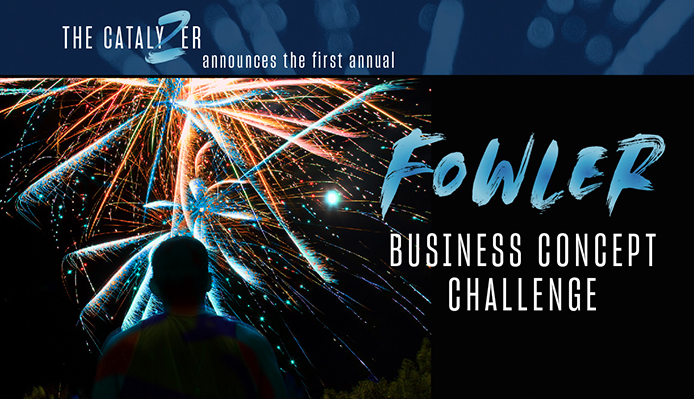 begin quote

Join us at the Fowler Business Concept Challenge when our semi-finalists will take the stage to pitch their ideas and the best concepts will win up to $45,000 in scholarships!
Excitement is brewing for the first entrepreneurial competition of the year, the inaugural Fowler Business Concept Challenge. Organized by the USD School of Business Entrepreneurship and Innovation Catalyzer, the competition is an early-stage business concept challenge that aims to ignite the entrepreneurial passion of USD students from all majors of all ages. This platform gives students the opportunity to explore new business ideas and the chance to win up to $45,000 in scholarships. After receiving a record number of 90 submissions with business ideas ranging from fashion to finance, 16 semi-finalists have been selected to compete live on stage at the Fowler Business Concept Challenge on November 15.
Meet a few of the up-and-coming entrepreneurs that will be pitching their business ideas:
Carl Dumesle (MBA '21) - HUGS (Housing for Undergraduate and Graduate Students)

Born to entrepreneurial parents in Haiti, I had the privilege of modeling my thinking after theirs from a young age. Their demeanor motivated me to embark on a few small ventures and gave me my first taste of success during my teenage years -- affording my own lunch! Life changed drastically after Haiti experienced a disastrous earthquake in 2010. I had been living there for 15 years and saw all my favorite childhood places tumble to pieces. After this unfortunate event, my family decided to move to the Dominican Republic where I studied business and strategy.
After I was accepted into USD's MBA program, I was excited to start my journey but experienced my first major hurdle before I even set foot on campus; I could not find a place to live. Students who study away from home are forced to jump through endless hoops just to find a place in their new host city. It takes many of us several months and multiple application rejections before securing housing due to lack of credit score, cosigner or social security number. We are also victims of potential scams and security risks. The process of finding housing was very time consuming and created extra frustrations before I even took my first MBA class. My teammate and I want to lessen the burden of undergraduate and graduate students looking for housing by providing comprehensive student-focused housing solutions.
Lauren Brown (JD '21) - FinForward
I am a second-year law student at the USD School of Law. I have been interested in business and finance for as long as I can remember, but it wasn't until undergrad that I discovered I am particularly passionate about the personal service aspects of finance. I was inspired by the idea of helping others actualize their financial goals by providing them with individualized financial advice, guidance and tools. Practical financial education is almost non-existent during college (unless the student is a business major). Thus, students are left on their own to decipher student loans, budgeting, and the responsible use of credit. And while there is no shortage of financial resources and providers, there are no financial businesses that specifically target undergraduate students with the purpose of increasing basic financial literacy throughout the duration of their education.
My business idea is FinForward. FinForward is an application for smartphones that stimulates and encourages students to be forward-thinking about finances, prioritize planning for their financial future, and gain basic financial literacy throughout undergrad by analyzing and actively managing their Current Financial Position. The application targets three areas that are especially important to students: student loans, credit cards, and planning for upcoming stages of life such as post-graduation employment.
Natalia Ohanesian (Communication Studies '20) - One of a Line

My name is Natalia Ohanesian and I'm a senior at USD. Fashion has intrigued me ever since I can remember and my perpetual interest in the fashion industry is what initially sparked the idea for my company, One of a Line. In college, I became aware of how frequently young women struggle with the important but impossible challenge of finding clothes that are high quality, trendy, and affordable. Currently, there is no solution out there that addresses all three of these needs for college girls, except my company, One of a Line!
One of a Line is an online clothing subscription company that allows its consumers to wear high fashion brands and then buy them for a discounted price or return them for their next set of clothes. It follows a similar business model as Rent the Runway but with clothing that you would find at shops like REVOLVE. Exciting deal, right? Be on the lookout for One of a Line come January 2020! Please don't hesitate to shoot me an email (nohanesian@sandiego.edu) if you are interested in joining my team.
James Adler (Economics '20) - Online Investment Training Platform
I'm from the Bay Area and study economics and data analytics at USD. I have always wanted to start a company because both of my parents are former entrepreneurs and I really want to be like them. I also want to have a major impact on the world and I have found that business and technology is a great way to do that.
The idea for my business actually came to me last summer when I was regularly trading stocks and actively managing my own money. I would spend a little bit of time each day on YouTube learning new trading strategies and seeing what other successful traders did. If I could mirror their strategies, then I too could become a very successful investor. Eventually, it dawned on me that I should build a platform for that exact purpose, but in real time. Inexperienced investors could watch and learn from more experienced investors to find out how to trade like they do. Experienced investors would, in turn, be compensated for sharing their trading strategies.
Don't miss the inaugural Fowler Business Concept Challenge.
Join us Friday, November 15 at the Fowler Business Concept Challenge when all of our semi-finalists will take the stage to pitch their ideas and the best concepts will win up to $45,000 in scholarships! You may just leave inspired to ignite your own entrepreneurial passion.
Map
5998 Alcalá Park
San Diego, CA 92110