Supplier Diversity Fair Sparks Opportunities for Local Business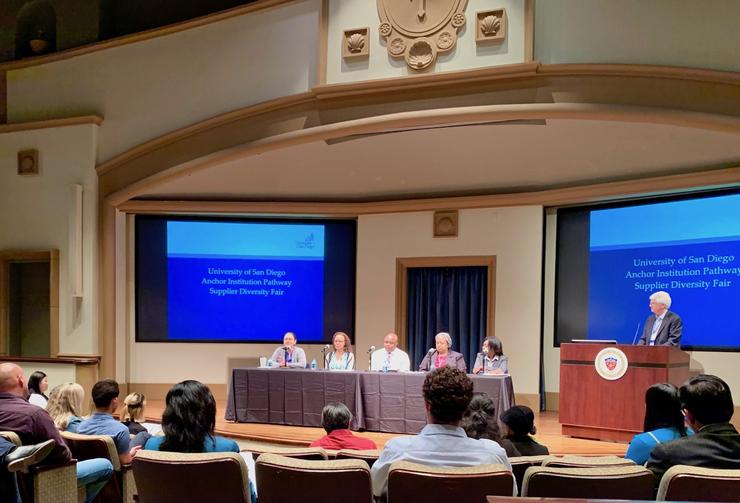 begin quote

The Supplier Diversity Fair is just one of numerous opportunities supported by USD to help local businesses thrive and reinforce its role as an anchor institution.
Local small business owners filled the theater of the Kroc Institute of Peace and Justice on Oct. 16 for the Supplier Diversity Fair, giving attendees the chance to gain insider tips on how to increase business by becoming a supplier for some of Southern California's leading public entities.
Attended by over 300 participants, the fair kicked off with a networking breakfast. Eduardo Velasquez, senior manager of the San Diego Regional Economic Development Corporation, then delivered a business update, followed by welcome remarks from President Harris.
Professor of Operations Management David Pyke introduced and moderated the first discussion panel of representatives from several of the region's premier educational partners, including the University of San Diego, University of Southern California, University of California San Diego, San Diego Community College District, San Diego Unified School District. The conversation was driven by a series of questions submitted by the audience. Panelists gave advice on what small businesses should do to become one of their main suppliers, from having an up-and-running website to doing research about the school and their needs before initially reaching out.
The second panel, moderated by Director of Procurement Services, Theresa Robinson Harris, addressed doing business with local government agencies. Key buyers were featured among the panelists including Jack Pellegrino from the County of San Diego, Claudia Abarca from the City of San Diego, and Elaine Richardson from SANDAG. The fair culminated in a Matchmaking and Supplier Fair where local business owners were able to connect with all of the organizations represented and get matched up with suppliers relevant to their industry.
Organized by The Brink Small Business Development Center, Supply Chain Management Institute, Procurement Services Department and the Mulvaney Center for Community, Awareness and Social Action, the Supplier Diversity Fair is a significant element of the USD pathway as an anchor institution and one of the numerous opportunities supported by the university to help local businesses thrive.
Map
5998 Alcalá Park
San Diego, CA 92110