Graduate and Undergraduate Real Estate Mentor Breakfasts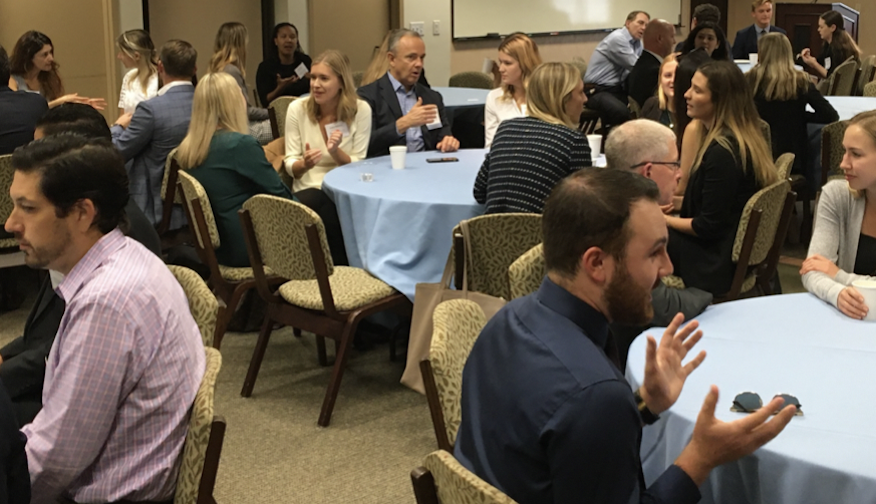 On Oct. 29 and 30, the Burnham-Moores Center for Real Estate hosted its annual graduate and undergraduate real estate mentor breakfasts to bring together the students and real estate industry professionals who mentor those students. These breakfasts serve as kick-off events for the mentorship programs.
This year, more than 20 Master of Science in Real Estate (MSRE) students and approximately 50 undergraduate students are participating in the respective mentorship programs. Mentors are comprised of USD real estate alumni and other professionals working within the real estate industry.
The Burnham-Moores Center for Real Estate's mentorship program pairs real estate industry executives with USD real estate students according to shared areas of interest. The mentorship program serves two goals. First, it enables real estate students to learn more about the industry and learn about the mentor's career path. Second, it enables USD real estate alumni and industry professionals to give back to the students and provide guidance, motivation, support and role modeling.
Mentors and students discuss everything from academic progress to long-term career goals, while learning about challenges and exciting new trends in real estate. The students and their mentors meet several times throughout the academic year for project site tours, job shadowing and introductions to other industry professionals. Many mentoring relationships continue long after students have graduated and entered the industry. We are very appreciative of the industry professionals that are integral in helping students decide which area of real estate to pursue after graduation.
Map
5998 Alcalá Park
San Diego, CA 92110