Local Clothing Company Discusses Cotton with a Conscience at USD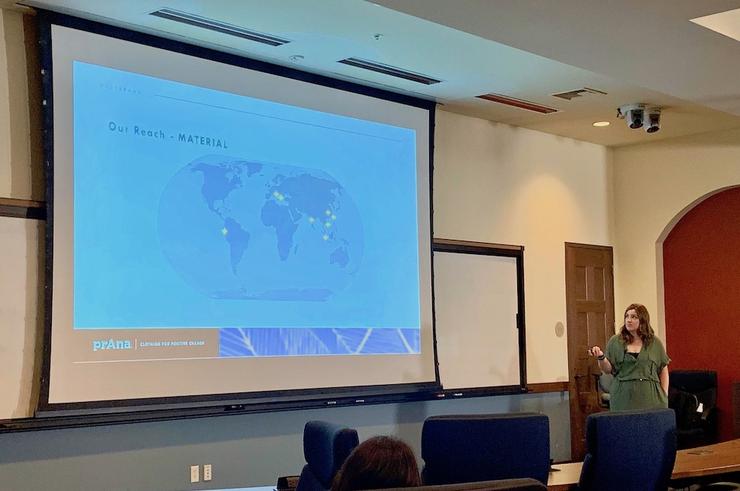 begin quote

Their success proves that businesses can embrace sustainable practices and be profitable.
100 percent organic cotton, recycled wool, and fair trade is prAna's recipe for doing business with a greater purpose.
Rachel Lincoln, director of sustainability and product ops for prAna, was the featured speaker at the International Business Speaker Series hosted by the Ahlers Center for International Business at the University of San Diego on Wednesday, Oct. 9, 2019.
PrAna is a lifestyle clothing brand that offers sustainable clothes for yoga and outdoor adventures. Lincoln began by sharing the company's simple origins dating back to 1992, when Beaver and Pam Theodosakis started the company out of their garage in Carlsbad, California. Their mission: make clothing for positive change.
Throughout the presentation, Lincoln emphasized that the materials and production process used to create prAna's clothes reflect the company's priorities -- people and planet. By applying socially responsible measures, they've given their customers a reason to believe in the brand and become loyal customers. Their success proves that businesses can embrace sustainable practices and be profitable. Lincoln concluded by sharing that prAna hopes that sustainable fashion evolves past being a niche offering to become an industry standard.
The Ahlers Center's International Business Speaker Series gives USD students, faculty, and staff, as well as the local community, the opportunity to hear from distinguished business professionals and industry insiders on global business trends and hot topics. The next speaker in the series is Ryan Patel, senior fellow at the Drucker School of Management at Claremont University and former vice president of business development at Pinkberry. Register now to attend on Nov. 6, 2019.
Map
5998 Alcalá Park
San Diego, CA 92110