Rising in the Ranks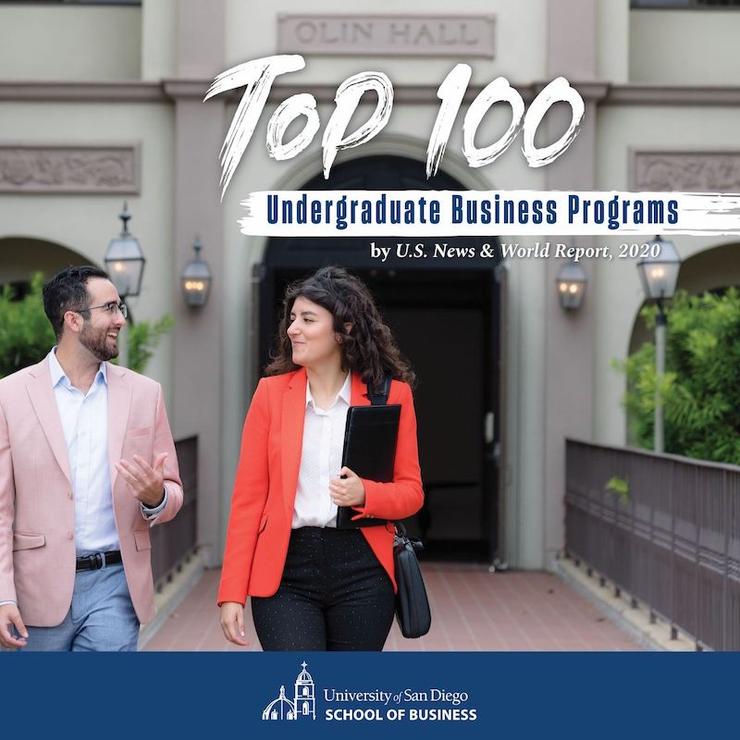 The University of San Diego School of Business ranks in the top 100 Best Business Programs for undergraduates, according to the latest rankings from U.S. News & World Report.
The USD School of Business leaped an impressive 18 spots from 2019, ranking 90th in the nation, out of 504 schools eligible for the 2020 ranking.
The U.S. News & World Report undergraduate business school rankings are based solely on the judgement of deans and senior faculty members at peer institutions. Deans and faculty members from AACSB accredited business schools were surveyed in spring 2019.
"It is gratifying to see the success of our students and alumni recognized by U.S. News as we continuously strive to create business programs that equip students to build a more prosperous and sustainable world," said USD School of Business Interim Dean Barbara Lougee.
USD's undergraduate business programs also have been ranked among the top 50 in the nation by Poets & Quants for the previous two years.
The USD School of Business offers majors and minors in cutting-edge fields including business analytics, entrepreneurship, real estate and supply chain management. Our undergraduate business programs provide a rigorous, relevant and personalized education including countless opportunities to meet industry professionals inside and outside of the classroom, network with CEOs and learn the latest career search tips.
Students also have the opportunity to develop a global mindset through study abroad locations ranging from Paris to Prague and São Paulo to Shanghai. USD is currently ranked #1 in the nation for study abroad participation by the Institute of International Education (IIE) Open Doors.
The University of San Diego is the youngest independent university on U.S. News &World Report's ranking of the top 100 undergraduate institutions.
For more information, go to https://www.sandiego.edu/business/undergraduate/.
Map
5998 Alcalá Park
San Diego, CA 92110