A Tribute to George Chamberlin
Nov. 5, 1945 to Sept. 1, 2019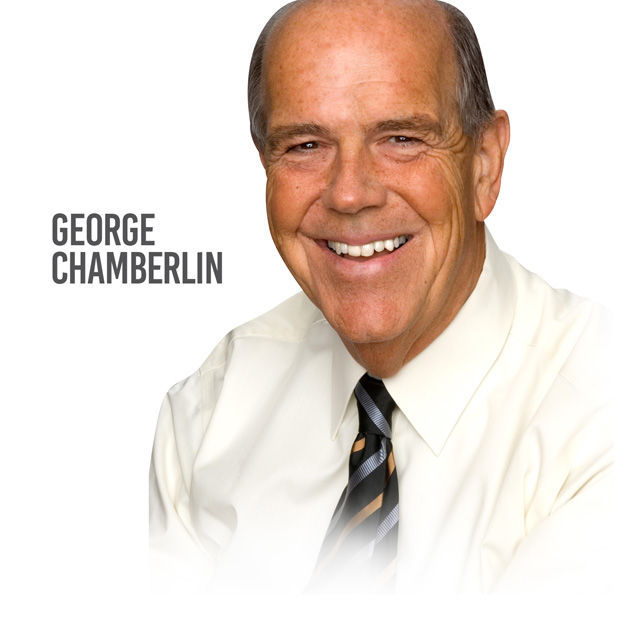 It is with much sadness that we share the news of George Chamberlin's passing. George lost his battle with cancer on Sunday, Sept. 1, 2019.
George served as business editor for KOGO 600 AM, hosted a finance show for the station, and for more than 30 years, he provided financial and business news updates for NBC 7 San Diego's Morning Show. He was also a business columnist for the North County Times newspapers and was executive editor for the San Diego Daily Transcript newspaper. Additionally, George published a national newsletter "Investing for Rookies."
George was a longtime supporter of the Burnham-Moores Center for Real Estate (BMC) and a good friend of Mark J. Riedy, emeritus policy advisory board member and founding executive director of the Burnham-Moores Center. Besides attending a vast number of BMC real estate events and covering student success stories, George was also the emcee at Riedy's retirement party and scholarship fundraiser in Jan. 2015.
George was a kind man and was well respected in the San Diego community. He was an avid tennis player and enjoyed playing golf as well. George is survived by his wife Terry of 46 years, his son Tom, daughter Sara, four grandchildren: Sophia, Lorenzo, Lily and Elias, and his beloved dog, Lexi. He is also survived by his brother Mike of San Clemente and numerous cousins, nieces and nephews. He will be missed by so many.
"It is with a very heavy heart that I post the passing of my husband of 46 years, George Chamberlin on Sunday," says George's wife Terry Chamberlin in an online post. "He died peacefully at home after a three-year battle with Mantle Cell Lymphoma. We are proud that he has touched so many lives over the past four decades and of the legacy he left."
A Celebration of Life will be held on Saturday, Sept. 28, 2019 at 10:30 a.m. at the San Marcos Boys and Girls Club at One Positive Way, San Marcos, CA 92069, where he and Terry were founding board members and past presidents. The family is requesting that in lieu of flowers, to make a donation in George's name to the San Marco Boys and Girls Club, Friends of New Haven, Vista or OASIS of San Diego.
The University of San Diego School of Business and the Burnham-Moores Center team extends its deepest condolences and thoughts to the Chamberlin family during this difficult time.
Read more about George's life in a story published by KOGO on Sept. 2, 2019
Map
5998 Alcalá Park
San Diego, CA 92110