How Austin Dias MSRE '16 Earned $30,000 in Scholarships While at USD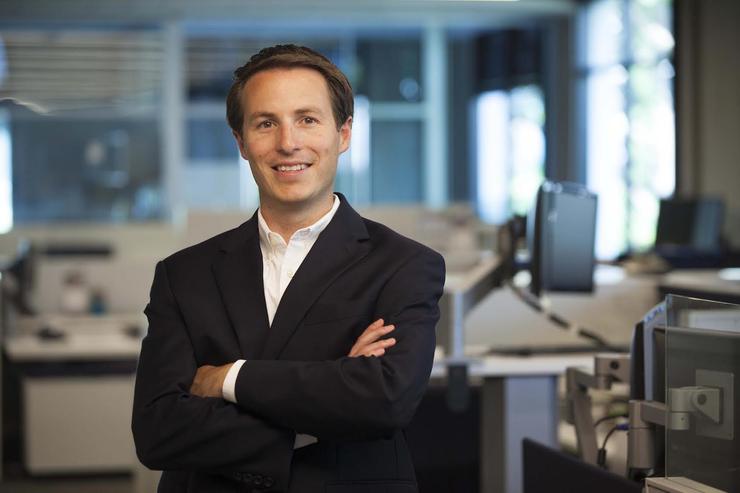 begin quote

Austin feels strongly that having an MSRE degree pays off. "I tell a lot of students that graduate school is a worthwhile investment and that it pays off even while in the program."
Austin Dias '16 MSRE sets the bar high. He exemplifies the amount of scholarship support that real estate students can apply for and obtain through the Burnham-Moores Center for Real Estate. Austin stands out for many reasons. His impressive background and community involvement made him a standout candidate for a vast number of scholarships.
During his undergraduate studies at California State University, Channel Islands (CI), Austin was selected by Richard Rush, president at CI, as a University representative at the Panetta Institute for Public Policy, which provides a variety of study opportunities in government, politics and public policy, and sponsors a range of other programs. Austin studied under former Secretary Panetta in Monterey, CA and then interned for Congressman Brian Bilbray of San Diego in Washington, DC. Austin earned his undergraduate degree in Business with an emphasis in Entrepreneurship and a second degree in Political Science from CI.
Following completion of his undergraduate degree, Austin, who grew up in Bonita, CA, returned to San Diego and worked at the San Diego Yacht Club running the Junior racing program for two years. He also owned a residential brokerage firm selling homes.
Obtaining A Master of Science in Real Estate (MSRE)
Austin knew he wanted to further his real estate career, and he always had an interest in graduate school. In 2015, Austin learned about the Master of Science in Real Estate (MSRE) program at the University of San Diego School of Business. He took the GMAT exam and applied to the MSRE program. He was accepted into the 2016 MSRE cohort. Austin shared that the MSRE program helped him obtain the technical and analytical skills that professionals in the real estate industry must have.
"I was attracted to USD's MSRE program because it stood out as a well-rounded program," says Austin. "Students come out very polished and are ready to jump into a career. The MSRE program gives students the foundation to do almost anything in real estate."
The Meaning of Scholarships
While at USD, Austin was awarded The James T. Gianulis Memorial Scholarship, the USD Real Estate Alumni Association Scholarship, the Mickey Carhart Memorial/NAIOP Scholarship, the BIA Cares Scholarship and the California Homebuilding Foundation Scholarship.
"The Burnham-Moores Center for Real Estate does an incredible job of making the scholarships process very easy," says Austin. "All of the scholarships are available on the website and the Center has a dedicated professional to assist students with the process. Getting the collective $30,000 in scholarships was a great affirmation that the MSRE program was the right choice for me—I was truly honored. My reputation has been enhanced as a recipient of these prestigious scholarships."
In 2017, Austin was asked to attend the California Homebuilding Foundation event to share how that scholarship had impacted his life and career.
"The event was very special to me," says Austin. "Only a few people get to speak at their Hall of Fame Dinner event, so this was a great honor."
Austin recommends that students invest the time to research each scholarship before applying.
"Spend time on the essays and research each organization or individual offering a scholarship—do your due diligence before submitting your application—the pay-off will be well worth it," says Austin.
Extracurricular Activities and the Community
Austin also attributes the success of the scholarship awards to his involvement in activities and the community. Donors like to see an individual's well-roundedness and contributions to society. During his time at USD Austin represented the University as an official blogger at the MIPIM property conference in Cannes, France. The event is the largest property conference in the world. Additionally, Austin was on the winning USD ARGUS University Challenge real estate team.
Outside of real estate Austin's interests include sailboat racing and outdoor adventures. Austin brings a history of success from his time at the San Diego Yacht Club as their junior racing program head coach. During his tenure there, the teams won multiple national championships and the program was voted the best in the country. Prior to that, Austin was inducted into the College Sailing Hall of Fame as the Student Leader of the Year and was also named All American.
Austin is married and has two kids, and a third is due in October 2018.
Building a Future in Real Estate
Austin is currently vice president at Duhs Commercial, where he works with some of San Diego's top investors, developers, tenants and landlords. Austin has been featured in the San Diego Daily Transcript as one of San Diego's Top Commercial Leaders.
Austin says that the MSRE program helped him get in front of the top real estate professionals in the industry. The program gives you the confidence you need to get out into the marketplace and network with key people and build those relationships which are critical in this industry.
"When you're in the program, you learn how to put a project together as a team and you get to meet developers in person," says Austin. "This empowers students so that they are ready to get out there and execute real-life projects and not just read about them in the paper."
Austin's future is bright. He enjoys the variety of the projects he manages and the value it adds to the community, whether it be building new homes, apartments or adding a new restaurant to the community. "I enjoy finding a void in a community and finding a way to fill the void," says Austin.
Austin feels strongly that having an MSRE degree pays off. "I tell a lot of students that graduate school is a worthwhile investment and that it pays off even while in the program," says Austin. "Each day I learned something new in class and subsequently I was involved with more complex transactions and sophisticated clients. I did more business when I was in the MSRE program than before. Better deals in combination with the incredible scholarship awards made the investment in a graduate degree pay off even faster than I ever anticipated."
Map
5998 Alcalá Park
San Diego, CA 92110