The Road to Tesla: SIBC Dives into Business Analytics for Auto Industry Disruptor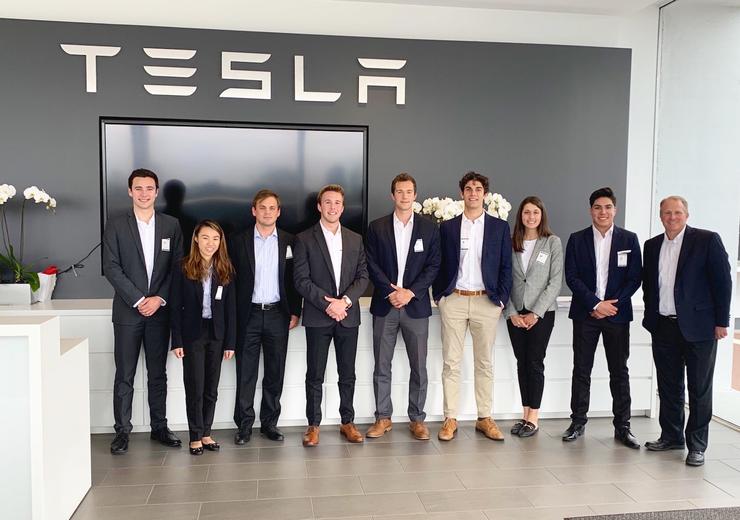 begin quote

'This project was the most interesting work I have done in my life. Getting to work on real-world sales data to creatively answer questions was an experience you can't simulate in a class.'
Students in the University of San Diego Student International Business Council (SIBC), one of just three privately-endowed, student-led SIBC's in the country, had the unique opportunity to work alongside Tesla, a leader in clean energy and the company that's revolutionizing the automotive industry with its cutting-edge electric cars. Students gained hands-on experience in consulting for a major industry disruptor which culminated in two student presentations at Tesla's headquarters.
The SIBC initially learned of the projects at Tesla through USD School of Business alumnus and former Tesla employee, Jordan Jadallah, Economics '14, which is a testament to the opportunities that the USD School of Business' extensive alumni network can provide.
Kevin Jerger (Accounting '19) was SIBC team leader on one of the two projects. He credits the team's success to the USD School of Business' faculty, who have taught him and his SIBC team members valuable lessons that help solve real problems at real companies. Assistant Professor of Economics Alison Sanchez's class on business analytics strategy, a requirement for the new minor in business analytics, piqued Jerger's interest in the field of business analytics and inspired him to join the Tesla project team. Over the course of the project, Jerger found himself delving even further into applied business analytics. He also applied lessons on data cleaning, visualization and manipulation, which he had learned in the accounting analytics course taught by Associate Professor of Accounting Johan Perols. Though they are not directly involved with the SIBC, Professors Sanchez and Perols offered their expert advice and technical help whenever needed throughout the project.
Learning about Tesla's industry and consumers, working on a consulting project for a renowned company and leading a consulting team for the first time, Jerger found the experience to be exhilarating yet challenging.
"This project was the most interesting work I have done in my life," said Jerger. "Getting to work on real-world sales data to creatively answer questions was an experience you can't simulate in a class."
During the project, the SIBC student teams analyzed anonymized data to assess commerce trends and consumer activity. After a couple of months of hard work and dedication, the team proudly presented their results to Tesla's sales analytics team at their main manufacturing plant. The presentation was followed by an unforgettable factory tour led by the Tesla team members that went behind the scenes of Tesla's operations in Fremont, California.
"If I were to describe the SIBC project and trip to the Tesla headquarters in one word it would be 'inspiring'," said team member, Trevor Denney (Mechanical Engineering '21). "The idea of working hard for a good cause - increasing the number of electric, non-combustion vehicles on the road - kept me motivated and enthused to put extra hours into the project."
Dr. Stephen Conroy, professor of economics and associate dean for undergraduate programs at the USD School of Business was the faculty advisor for the SIBC project. As with all of the student projects he mentors, Professor Conroy was directly involved with the student team on this project, guiding them through the process as they made many important decisions.
"Projects like these provide students with real-world opportunities to apply the techniques and skills they learn in class," shares Professor Conroy. "They also allow students to grapple with and ultimately master large, challenging questions where feedback and recognition is provided by company managers rather than faculty. These projects also provide an opportunity for students to interact with a company like Tesla in a way that would otherwise be limited to internships and employees--complete with signing non-disclosure agreements (NDAs)."
The other project, co-led by Nour Sabri (Economics '19) and Kirsten Kuang (Business Economics '20), which also included Anthony Romero (Business Economics '21), investigated seasonality in Tesla sales data.
In the end, Professor Conroy and the SIBC teams were proud of the outcomes on this project, having already been invited back to Tesla for future projects. While their success can be directly attributed to lessons learned in class, the team came away with remarkable experiences that go beyond what the classroom can offer.
"Participating in a driven team under the direction of Dr. Conroy was an enriching aspect of the process, and I walked away with what will be one of my most memorable endeavors in college," said team member, Noah Dickinson (Finance '21).
Map
5998 Alcalá Park
San Diego, CA 92110