Two Degrees, Two Graduations, Two Days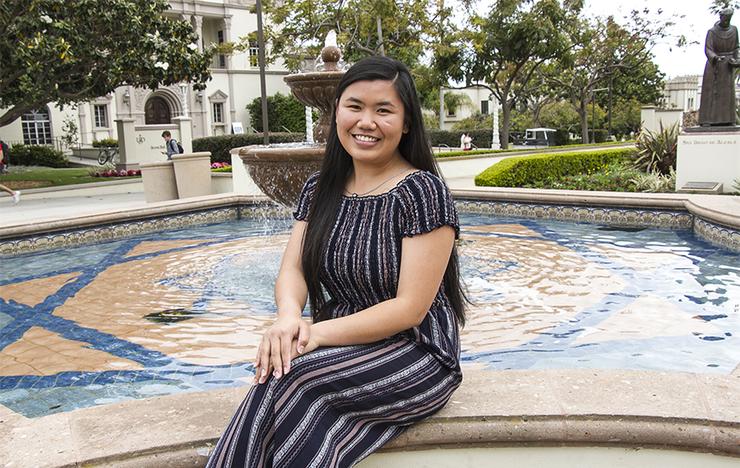 It seems only right that when 21-year-old Angelica Ignacio graduates this weekend from the University of San Diego it will be done a little differently than most.
Ignacio will be a participant in two Commencements this weekend. She will first walk in Saturday morning's Graduate Schools II ceremony to receive her master's degree in accountancy from the School of Business. On Sunday afternoon, she'll return to the Jenny Craig Pavilion to accept her undergraduate bachelor's degree in accountancy.
One more thing: Ignacio, a native of Quezon City in the Philippines who immigrated legally to the U.S. six years ago with her father, siblings and whose mom recently became a naturalized citizen, is graduating with two degrees in only three years' time.
"Growing up, I've always been taught education is the key," Ignacio says. "If you want to change your life and have a greener future, education is key. That was the goal. So that's why I came to college with the mindset that I'm going to finish my degree in three years."
Summer Bridge Launch
Ignacio, intrigued by USD's designation as an Ashoka U Changemaker Campus as well as its accountancy program, took part in Summer Bridge, a one-week pre-orientation program offered by USD's TRiO Student Support Services (SSS) for incoming college students who are from low-income families, first-generation college student, from an underrepresented population, or have a documented disability. Summer Bridge helps students meet new people, adjust to USD's academic rigor by taking a week-long class with a USD professor and acclimating themselves to the campus and to San Diego.
Ignacio, who came from Northridge, Calif., wasted no time establishing her academic goal with Ophelia Augustine, a USD alumna and SSS academic coordinator.
"To say she was an eager and ambitious freshman would be an understatement," Augustine said at the SSS end-of-year banquet May 16 when Ignacio received the SSS Outstanding Senior Award. "She told me she wanted to major in accountancy and graduate in three years. I honestly thought she was being a bit naive. It's one thing to want to graduate early, but it's another to graduate with an accountancy degree, one of the toughest business majors. For it to work, she'd need to take nearly 18 units per semester, including summer and Intersession courses, not to mention the rigor of her major. She'd also have to factor in study time, social and extracurricular activities, work-study and what about study abroad. I hoped she'd change her mind once I laid out this seemingly daunting task, but she did the opposite. She looked me in my eyes, shook my hand and said 'thank you.' It was as if to say, 'Challenge accepted.'"
But two degrees, a bachelor's and a master's degree, in three years? Ignacio entered USD focused solely on the undergrad degree, but when Dr. Diane Pattison, PhD, professor for her first upper-division accountancy class as a sophomore, informed her about taking graduate-level accountancy classes while an undergrad, it was another "challenge accepted" reaction.
"Angelica is an intelligent, dedicated and highly motivated individual," Pattison said. "When we discussed the Master of Accountancy program she recognized the value that graduate education would bring to her accounting career. Although completing both programs in three years is an amazing feat, she did so with style and grace. She was a team player and mentor to other students in both programs. She is an outstanding representative of USD as well as bachelor and masters' programs and she will be an incredible addition to the accounting profession."
Time Management Marvel
Ignacio's secret? She probably deserves recognition for time management excellence. "As soon as I get a syllabus, I plan out my whole semester. It helps me get things done. I know what's due, I know what's up. People who know me know I have a sticky note on the back of my phone telling me what I'm doing every minute of the day."
The blueprint for Ignacio's successful college endeavor has gone like this: She declared for the accountancy major the first week of school and took 17.5 units per semester at USD. She went to London for a class during Intersession her freshman year, took 12 general education units the summer before her USD sophomore year at Moorpark and Los Angeles Pierce community colleges and again took 17.5 semester units her sophomore year. She did the Second-Year Experience Study Abroad program during the 2018 Intersession in Florence, Italy. By this time, she learned about taking master's courses concurrently as an undergrad. She got ahead by starting master's classes in Summer 2018 and went to London, Paris and Rome for classes that exposed her to international accountancy standards. She's taken the full schedule of classes again this year. While she is walking in both graduations this weekend, she does have one final master's class to take that starts next week and concludes in June.
As for her involvement on campus, Ignacio's full schedule hasn't been devoid of missed opportunities these three years.
She was a tutor at Mark Twain Alternative High School in Linda Vista through the Mulvaney Center for Community Awareness and Social Action. She's been a federal work-study student at Copley Library since second semester freshman year and counts University Library Dean Dr. Theresa Byrd as a mentor. She attended events at the United Front Multicultural Center and Women's Commons, served as an SSS mentor to five freshmen and was a peer educator to help spread awareness of sexual assault prevention. She's also been a Eucharistic Minister, helping with Founders Chapel's 9 p.m. Sunday Mass.
"I have no regrets, I've gotten a taste of things I like," said Ignacio, who has even taken a mixed martial arts class. "I don't think I've missed out on the 'college experience.' We all have different definitions about what that means and what I've had at USD has been meaningful. I've spent time with people I care about and I've been genuine about relationships I've built. I came here with a purpose and a goal. I have friends here and they are people I know I can count on when I need them."
It's obvious, too, that she's made an impression on others. She began participating in professional networking events for opportunities to build her accountancy experience and visibility. She is currently a graduate assistant to Pattison, is involved with the Accounting Society, Beta Alpha Psi and she's worked the last year and a half doing forensic accounting for a local law firm, Robbins, Geller, Rudman and Dowd LLP.
Family Time, Future Plans
Likely the most difficult thing about her schedule is time spent away from family. A family-centered person, Ignacio's parents, Heidi and Rodolfo, have worked extremely hard to provide for their daughter's academic opportunity. While she communicates with them daily, she's rarely been able to get back home. Finishing in three years, she says, honors them.
"My family will be here this weekend," she said with a smile on her face. "If I make them happy, then I am happy."
The happiness will escalate when Ignacio rejoins her family. They are planning to take a family trip back to the Philippines to visit friends and relatives. Upon her U.S. return, Angelica will begin a full-time job as an assurance associate at PricewaterhouseCoopers' Los Angeles office. She plans to start working on the CPA exam, which is a four-part exercise, before she starts her job and she plans to finish before she completes her first year at PwC.
Given Ignacio's track record at USD, it's another accepted challenge she, undoubtedly, will find a way to succeed.
— Ryan T. Blystone
Map
5998 Alcalá Park
San Diego, CA 92110