23 Students from 15 High Schools in San Diego Learn about Entrepreneurship and Compete for $2,000 in Scholarships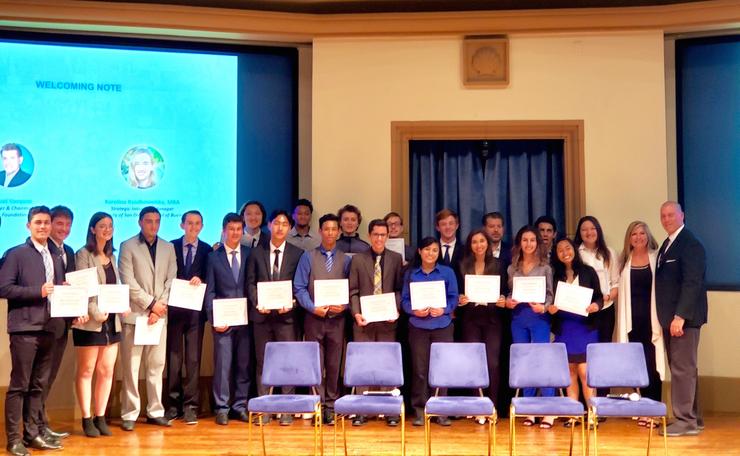 begin quote

What was most impressive was the passion these students had to make an impact in the world.
University of San Diego School of Business partners with the California Foundation Fund to host the FutureBoss training week and competition. FutureBoss is a Youth Entrepreneurship Training Platform & Competition for rising leaders at high schools throughout San Diego.
This year, 23 participants from 15 high schools throughout the county learned how to develop and pitch their venture ideas in a 4–day intensive "entrepreneurship bootcamp."
Students learned how to identify a problem and develop a solution with a unique marketable idea. They received workshops from School of Business faculty and community business leaders on marketing, pricing, financial plans, competitive advantage, distribution, and aligning the business goals to make an impact in the world.
At the end of the four-day training, students presented their business ideas in the form of a five-minute pitch to a panel of esteemed judges on June 20. Three students were chosen to win $2000 in scholarships awards and honored at a ceremony with their parents, business leaders, and the community. Harmony Prado, from Morse High School, won the first place prize with her idea "Harmony's Room," a safe space for teenage girls to feel empowered, connection, personal and supported with their mental health.
"I was so impressed to see how much the students were able to absorb from the workshop sessions in just four days and how greatly they incorporated real business principles in their pitches," said Karolina Rzadkowolska, Strategic Initiatives Manager at the USD School of Business who participated as one of the four judges of the competition. "What was most impressive, however, was the passion these students had to make an impact in the world through business ideas that help the environment, education system, and promote wellbeing."
Students also heard from business leaders in the community on going after their dreams and the perseverance and education it takes to be an entrepreneur, including Michael Dallo, founder of Dallo Law Group, Karolina Rzadkowolska, strategic initiatives manager at the University of San Diego School of Business, and Miguel Vasquez, founder and chairman of the California Foundation Fund.
See additional event information and the list of speakers at https://futureboss.zohobackstage.com/FutureBoss.
Map
5998 Alcalá Park
San Diego, CA 92110