Burnham-Moores Center for Real Estate Appoints Two New Members to its Policy Advisory Board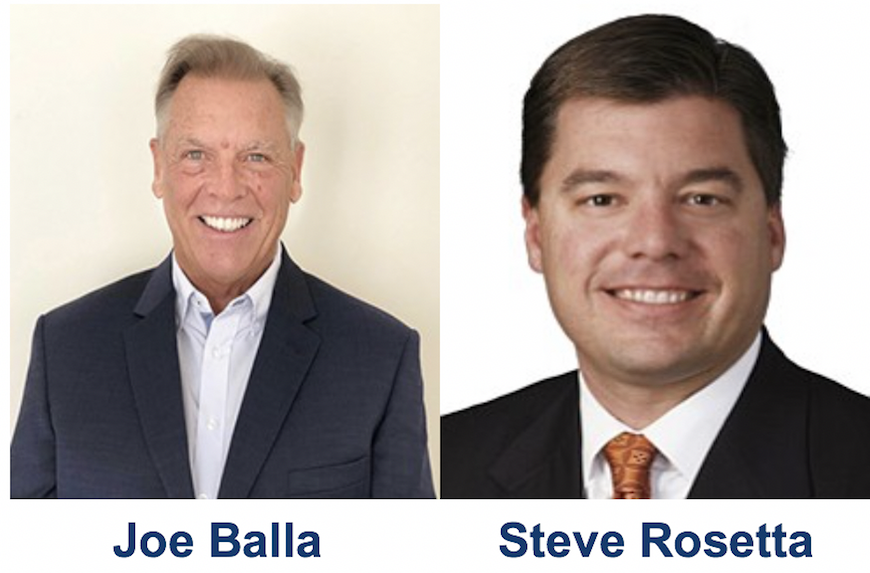 The Burnham-Moores Center for Real Estate (BMC), within the University of San Diego (USD) School of Business, has announced the appointment of Joe Balla of Strategic Assets Group and the Harbaugh Foundation, and Steve Rosetta of Kilroy Realty as the newest members to its policy advisory board (PAB). The PAB provides policy guidance and financial support to the BMC and real estate students at USD. With these two additions, the PAB is currently comprised of 45 members and six Emeritus members.
About Joe Balla
Joe is the founding principal of Strategic Assets Group and is the director of the Harbaugh Foundation. Joe is a seasoned commercial real estate professional, investor and philanthropist. As the founding principal of Strategic Assets Group, he oversees all operations and long-term planning for the firm. Through his philanthropic endeavors with the G. Harbaugh Foundation, Joe has directed numerous charitable grants to such causes as Freedom Ranch for Heroes, Starkey Hearing Foundation, J. Craig Venter Institute, X-Prize Foundation, the Honor Foundation, the Ian Walsh Foundation, and the Kindness Project, to name a few. The Harbaugh Foundation is also proud sponsor of the Patriots' Outpost at the Farmers Insurance Open golf tournament at Torrey Pines, which provides a free venue for active military to enjoy golf with their families. Joe is a devoted husband and father. He and his bride of 30 years, Pam, reside in Rancho Santa Fe, CA and enjoy traveling, fly fishing, sailing and doing just about anything on the water.
About Steve Rosetta
Steve is executive vice president and chief investment officer at Kilroy. He came to Kilroy after more than 20 years with Cushman & Wakefield (C&W), most recently as the vice chairman of brokerage services. Steve opened C&W's office in San Diego County and grew it into an enterprise with more than $2 billion in annual transaction volume. He previously served as a principal in an opportunistic real estate company where he partnered with institutional and private equity companies to develop and reposition office projects across the United States. Steve received a master's in real estate development from the University of Southern California and a bachelor's in business administration from California State University, San Marcos.
Map
5998 Alcalá Park
San Diego, CA 92110