RECAP: Recent BMC Alumni and Student Events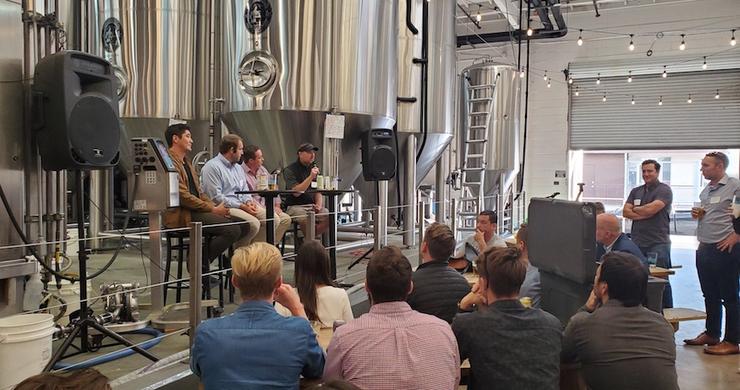 On April 24, more than 60 University of San Diego School of Business real estate alumni, current students and industry professionals attended the Padres vs. Mariners baseball game at Petco Park. The event is an annual tradition to support networking amongst students, alumni and industry professionals. A special thanks to our sponsors for making this event possible: Interwest Capital, Collier's International, Hunn Group-Heathcare Advisors and CBRE Advisory & Transaction Services. The Padres brought the evening to a great close, defeating the Mariners 6-3.
On May 23, the Real Estate Alumni Association (REAA) hosted a networking event at Coronado Brewing Company's San Diego tasting room location. More than 30 USD real estate alumni attended the event. A panel of speakers, including Kevin Newburg '13, founder of June Shine hard Kombucha, Shawn DeWitt, co-founder of Coronado Brewing Company, Damon Melda, executive vice president at JLL and Hank Jenkins '14, associate at Colliers, spoke about how the craft beverage industry is impacting real estate in San Diego.
The next REAA event will be a happy hour event, scheduled for August 1 at the alumni-owned and operated C3 Bank in Encinitas.
Join REAA now or contact Joe Bertocchini, alumni and scholarship services manager, for more information about the benefits of a REAA membership.
Map
5998 Alcalá Park
San Diego, CA 92110