University of San Diego and CETYS University Collaborate in Dual Graduate Business Degrees – the First of its Kind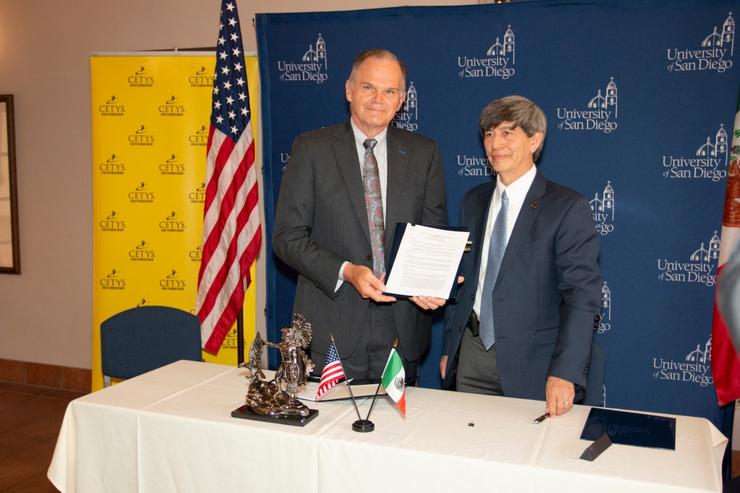 USD hosted a signing ceremony yesterday with the USD School of Business and Centro de Enseñanza Técnica Y Superior (CETYS) to put into effect a collaboration whereby our Master's in Global Leadership (MSGL) will be offered along with CETYS' MBA as a dual degree program across the border in Mexicali, Mexico. The event has already received international media coverage from Univision, InfoBaja, Telemundo, and RadioNoticia among others as well as local coverage from San Diego Metro. Below is the press release with more details about the new collaboration.
San Diego, CA – The University of San Diego School of Business is collaborating with Centro de Enseñanza Técnica Y Superior (CETYS) to offer CETYS University graduate students the USD Master of Science in Global Leadership (MSGL) degree, coupled with an MBA from CETYS at their campus in Mexicali, Baja California, México. This is the very first time that a USD degree is offered and granted outside of the U.S.
The two universities will hold a signing ceremony on Tuesday, June 11, at 3:00 p.m. in USD's Degheri Alumni Center Boardroom, Room 120.
"Offering our MSGL degree at CETYS' state-of-the-art campus in Mexicali recognizes the importance of economic and social integration along the U.S.-Mexico border," said James T. Harris III, president of the University of San Diego. "USD School of Business students and CETYS students have previously worked together on multiple assignments and consulting projects with a cross-border perspective, and this new collaboration represents the next step in USD's globalization of its educational initiatives."
Dr. Fernando León García president of CETYS University, said "It's an honor and pleasure to be able to offer such an innovative and unique program with a leader institution like USD. It reflects the type of initiatives that bring about knowledge, better practices and the connections necessary to better serve our students, supporting their professional growth so they're able to be leaders in particular in our CaliBaja region. With our USD alliance, CETYS moves forward and takes to another level the university's commitment to be globally competitive."
All USD MSGL courses will be delivered across the border in Mexicali in English by USD faculty beginning in July 2019, and both universities are accredited by the Western Association of Schools and Colleges (WASC). The program can be completed in a part-time or full-time format in approximately 24 months. For application and other information, go to https://www.cetys.mx/en/academic-programs/graduate/master-of-business-administration-double-degree/.
CETYS is a private university founded in 1961 with campuses in Mexicali, Ensenada, and Tijuana. Leading international institution in México, CETYS is among the first places in México in terms of percentage of students who graduate with international experience (almost 60%). CETYS became the first higher education institution to achieve WASC accreditation outside of the United States, while also having other accreditations in the USA such as ACBSP and ABET.
The University of San Diego annually hosts nearly 1,000 students and scholars from 100 countries and is ranked number one in the United States for the percentage of undergraduate students who study abroad. USD's graduate programs incorporate several global learning opportunities. In 2014, the USD Madrid Center was inaugurated and there are plans in place to open a USD Rome Center in 2020.
Map
5998 Alcalá Park
San Diego, CA 92110