Building a Global Mindset in the Classroom: 8 Nationalities Convene at USD to Put International Business into Practice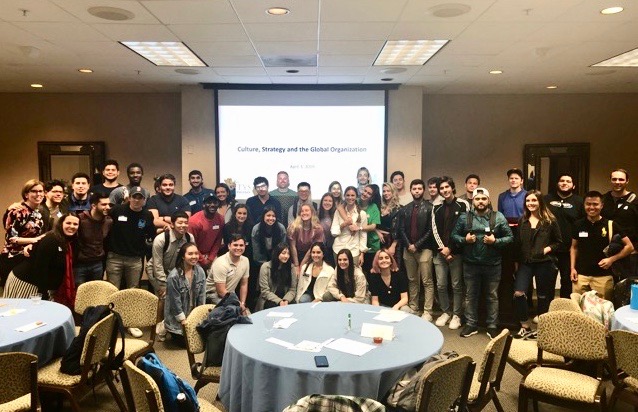 begin quote

One of the greatest takeaways students gained from this hands-on class experience was 'how to leverage cultural diversity in global firms as a source of competitive advantage.'
USD School of Business undergraduate students majoring in international business were challenged with a series of activities to understand the complexities of working at a global company. Students taking Introduction to International Relations with Clinical Professor of International Business Eileen Daspro participated in the project alongside 14 students from Dr. Lorena Santana's class at the Centro de Enseñanza Técnica y Superior (CETYS), a private university with three campuses across the border in Mexico. Recognizing the importance of the economic and social integration along our US-Mexico border, this is just one of several projects that students from CETYS and the USD School of Business have collaborated on.
This spring, in Professor Daspro's class, more than eight nationalities were represented, including the CETYS students from Mexico and USD international exchange students that came from Greece, South Korea, and Morocco, among others. During the class session, students engaged in various teambuilding activities with cultural variations to experience first-hand the challenges of working in a culturally and linguistically diverse team.
"We all played Jenga with the extra rules of no communication and having to use your nondominant hand," said USD student, Olivia Thapar (Finance '20). "The intention of this exercise was to show us how difficult it can be to work in a group if you are unable to communicate with one another.
Next, students participated in a role-playing activity where they were immersed in an environment where they had to speak in a 'new language' that they were unfamiliar with. This was intended to simulate the experience of native speakers in Japan who were uncomfortable speaking in English, a problem that would recur in the case study that would follow right after.
After gaining new insights in cross-cultural communication through Jenga and role-playing, students took on an international business case study from Harvard. The case focused on Rakuten, a Japanese e-commerce company, that adopted a single language policy of speaking English, only to encounter much employee resistance. Students worked in multicultural teams to propose innovative solutions for a strategic language policy that Rakuten could implement towards its global workforce.
"Through this experience, I learned that communication is key," said Thapar. "In order to be successful in a group or team, you need to be able to communicate with each other, either verbally or nonverbally."
One of the greatest takeaways students gained from this hands-on class experience was "how to leverage cultural diversity in global firms as a source of competitive advantage," shared Professor Daspro. "It involves effectively managing the many ways that culture influences team dynamics. From communication styles, to decision making to expressing disagreement, cultural differences really do impact a team's potential to perform well."
In addition, students created new connections and learned to appreciate the challenges of working in multicultural teams. "I enjoyed getting to know the CETYS students," said Olivia Thapar. "They traveled all the way across the border to be with us for the evening so I made sure to give them my full attention and get to know them a little bit."
Next year, Professor Daspro plans to team up again with Professor Lorena Santana Serrano from CETYS to have their students work on a project related to international opportunity identification.
At the USD School of Business, creating a global mindset starts in the classroom. With this perspective, students are better equipped to become thoughtful and impactful business leaders around the world.
Map
5998 Alcalá Park
San Diego, CA 92110