'Innovate or Die' - Lessons from Our Supply Chain Management Institute's 8th Annual Spring Symposium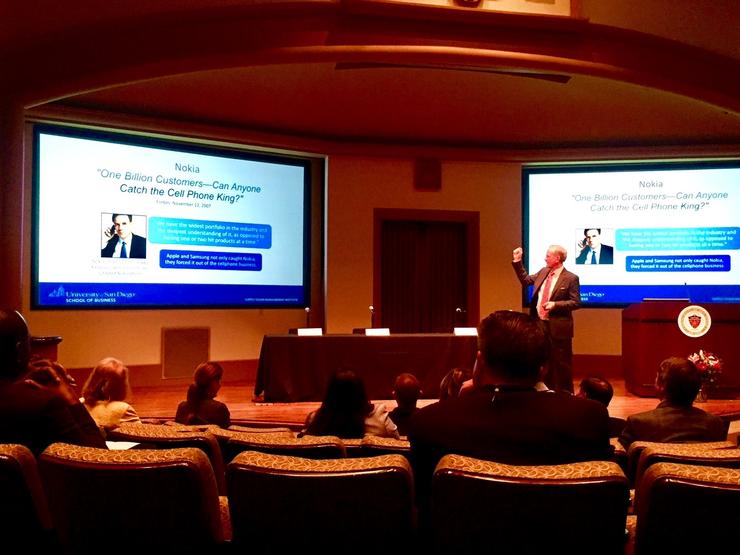 begin quote

61 percent of CEOs say innovation is a priority in their business, but 55 percent of firms say they don't effectively seek innovation opportunities
The eighth annual Supply Chain Management Institute Spring Symposium took place at USD last week and brought together over 160 supply chain industry experts and professionals, representing 60 unique organizations, as well as USD staff, faculty and students. The theme of this year's conference was 'Innovate or Die,' emphasizing lessons from industry leaders on the importance of creating new supply chain processes to stay in business.
"The theme for this year's event was especially timely and important, as global supply chains are going through dramatic changes due to technology advancements, increasing consumer demands, and geopolitical challenges," said Managing Director of the Supply Chain Management Institute Joel Sutherland.
Dean Jaime Gomez shared opening remarks at the event celebrating the 20th anniversary of the University of San Diego School of Business Supply Chain Management Institute (SCMI). Dean Gomez also highlighted the success of our supply chain programs, stating that our master's in supply chain management program has ranked among the top 25 online graduate programs in the nation for six years in a row. He also mentioned that he is currently in discussions with seven universities around the world -- from Uruguay to Spain, to Italy, and beyond -- that want to partner with the USD School of Business to include our Master's in Supply Chain Management among their program offerings.
Managing director, Joel Sutherland, started the day's series of presentations discussing why people should care about supply chain. "61 percent of CEOs say innovation is a priority in their business, but 55 percent of firms say they don't effectively seek innovation opportunities," he revealed. Following the morning's panels and presentations, attendees broke off into workshops that explored topics on blockchain transforming the industry, achieving sustainability, and even a two-hour game simulation on how to mitigate supply chain risk.
The SCMI is a self-funded center of excellence here at USD, providing opportunities for students to connect with industry professionals and gain hands-on, real-world experience in supply chain. If you missed this year's Spring Symposium, don't forget to sign up to attend the SCMI's 34th annual Fall Forum on October 14-15, 2019.
Map
5998 Alcalá Park
San Diego, CA 92110