Upcoming Real Estate Continuing Education Courses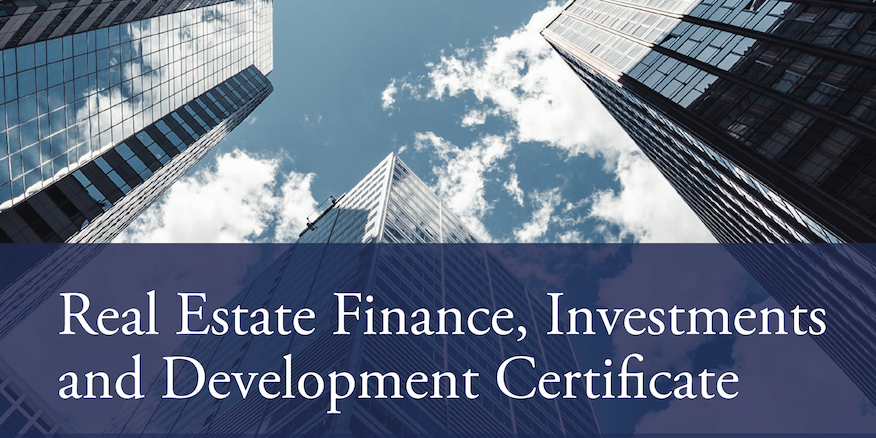 Enhance your real estate career with the University of San Diego's Real Estate Finance, Investments and Development Certificate. Learn essential skills for financing, marketing and selling commercial real estate projects as well as other important elements of development and project management.
Real estate, finance and development industry professionals who want to expand their practical knowledge base and learn today's most cutting-edge real estate practices can do so in our Real Estate Finance, Investments and Development Certificate program.
The certificate, which can be completed within 12 months, will help you update your professional skills and knowledge, document your academic achievement in an area of specialized expertise, increase your value at your company and even position you for a salary increase.
The certificate is designed to provide top competitive skills in the financing, developing, managing, marketing and selling of a commercial real estate project. Additionally, you'll explore the legal, entitlement and environmental aspects of real estate development and project management. So you can increase your value and build your leadership in the competitive real estate market.
Upcoming courses in May and June 2019:
REP-X827 Development Feasibility
Starts May 8, 2019, led by Jay Wexler
New Course! REP-X815 Market Analysis
Starts June 4, 2019, led by Stath Karras, executive director of the Burnham-Moores Center for Real Estate
Enroll in a real estate certificate course. Registration questions should be directed to PCE.
Get a student's perspective
Ask questions and learn more about the real estate continuing education courses from Kimberly Malasky, director of communications and marketing at the BMC, who completed the certificate program in December 2018.
Additional articles on the real estate certificate program
Read Inside the Classroom of a Certificate Program and Continuing Ed Offers More Than You Think for CRE. Requires a free subscription to read the articles.
Map
5998 Alcalá Park
San Diego, CA 92110