Six Finalists Vie in V2 Pitch Competition April 25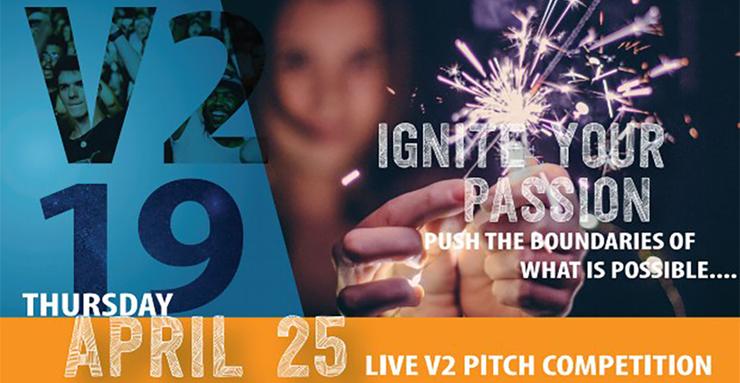 The eighth annual Venture Vetting (V2) Pitch Competition, hosted by the University of San Diego's School of Business, will take place Thursday, April 25 in the Joan B. Kroc Institute for Peace and Justice Theatre. Six teams, three with USD student ties and three international teams, will present their ideas in front of a panel of investors and the KIPJ Theatre audience in hopes of securing up to $20,000 in seed funding.
The six teams competing in the V2 Final Pitch Competition this year are:
Double Take (USD): As a high school senior applying to NCAA Division I schools for soccer scholarships, I noticed there was an absence of companies who offered quality video production for scholarship-seeking, collegiate-bound athletes. By teaching myself how to edit and getting my name out there, I received official offers from Harvard, UCLA, University of San Diego, UC Davis, Sacramento State and others. I've replicated and improved this process through my own company, Double Take Recruitment Videos, to help other athletes struggling to be seen, achieve their dreams. Presenter: Connor Hountalas.
Gigglr (USD): People who work for "gig economy" companies such as Uber, TaskRabbit, Postmates and many others, lack basic benefits such as minimum wage and health insurance. Gigglr is a first-of-its-kind gig economy business in which the employee comes first. Its machine-learning algorithm considers weather, events, surge pricing, overlap opportunities and more to find the most profitable gig opportunities. Via this optimization, Gigglr employees can enjoy a livable salary and health benefits. Presenter: Dane Baker.
LifeBox (USD): This company seeks to rebuild communities by providing safe, warm temporary housing in times of natural disasters. LifeBox provides a housing solution with the capability of rapid deployment and increased occupancy so that this product gets to the sites of natural disasters faster than competitors can and re-establish the affected communities. Presenter: Charles Bullard.
Aliquam (Mexico): We specialize in recovering medical fees from insurance companies. Founded by a medical doctor and hospital administrator, Aliquam is a mobile application that is designed to make the administrative process for obtaining their fees easier. Aliquam is available in any state in Mexico. It's a completely digital company with a foundation on the 5 P's — People, Planet, Peace, Prosperity and Profits. Presenter: Adrian Lopez Gomez.
Boki (Uruguay): This is an educational digital tool that improves the learning experience and enhances a student's enthusiasm for it. We combine software, pedagogy, video games and the publishing world to create Boki. There are fun, challenging activities and exercises to help children learn in a playful and interactive way. Presenter: Federico Bello.
SkyClope (Chile): Skyclope is the aerial solution capable of offering a unique combination of aerial intelligence with artificial intelligence specialized algorithms. We are focused on two key industries — mining and solar farms — where the impact of delivering an end-to-end solution such as the one SkyClope is able to provide, is aimed at improving efficiencies, diminishing risks and simplifying complex processes. For mining, we are able to reduce at a fraction of time the process of drilling and blasting at the same time reducing the exposure of workers to the potential risks resulting of the execution of near shore task in the mine site. For solar farms, we're able to survey the current situation of solar panels, with the usage of high resolution thermal cameras, in order to early detect anomalies at cells. In both cases, we can execute unique AI algorithms which accelerate the analysis, prediction and reporting of the information requested to key decision makers in both industries to help them to be more efficient and successful in their daily responsibilities. Presenter: Carlos Angulo del Pozo.
The six presenters will be trying to convey their entrepreneurial idea and message to a panel of investors who will decide on the seed funding distribution. This year's investor panelists are Andrew Ly, Jeffrey Adler, Michael Kimball, Ramon Toledo, Navid Alipour, Victoria Lakers and Wolf Bielas.
The V2 program begins with a venture fair for investors, alumni and the USD community at 5 p.m. at the Kroc School's Garden of the Sky area in front of the IPJ building. Starting at 6 p.m., the audience should be in their seats in the IPJ Theatre for opening remarks. The V2 pitches begin at 6:15 p.m. Individual meetings for the entrepreneurs with investors happen at 7:15 p.m. Awards and funds will be announced for the USD and Latin American student entrepreneurs.
It's free to attend the V2 competition, but RSVPs are required. For more information, go to www.usdentrepreneurship.com
Map
5998 Alcalá Park
San Diego, CA 92110