Burnham-Moores Center for Real Estate Appoints Three New Members to its Policy Advisory Board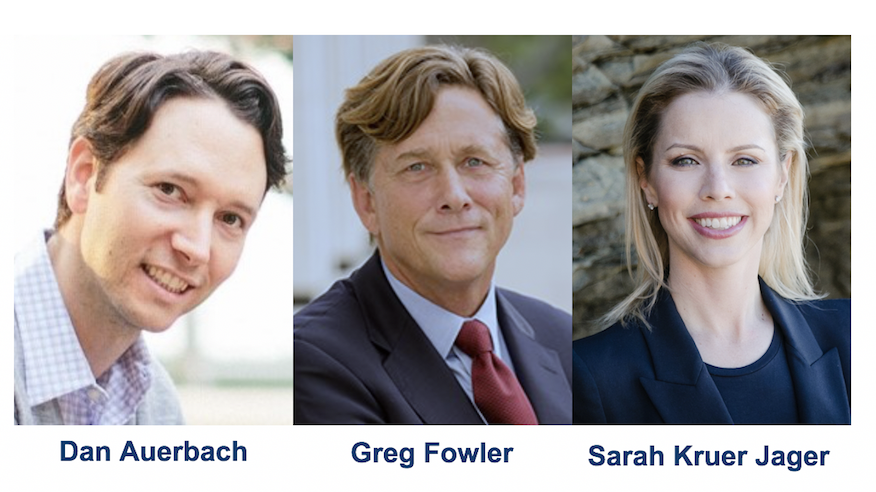 The Burnham-Moores Center for Real Estate (BMC) has announced the appointment of Dan Auerbach, Greg Fowler and Sarah Kruer Jager as the newest members to its policy advisory board (PAB). The board provides policy guidance and financial support to the BMC and real estate students at USD.
With these additions, the BMC's PAB encompasses 47 appointees and six emeritus members who take an active role in teaching, mentoring, advising, hiring and funding scholarships to support USD real estate students and also are instrumental in supporting the Burnham-Moores Center for Real Estate and its student-centric mission.
"The appointments of Sarah, Greg and Dan to our PAB represent the high caliber of real estate industry professionals who are dedicated to supporting the success of University of San Diego's real estate students," says Stath Karras, executive director of the Burnham-Moores Center for Real Estate and liaison to the PAB. "We are honored and excited to have each of them onboard and look forward to incorporating their expertise to further the BMC's mission."
About Dan Auerbach
Dan is senior vice president and the San Diego market leader for Wells Fargo commercial real estate. Wells Fargo is a diversified, community-based financial services company with $1.9 trillion in assets. It is the top commercial real estate lender in the country and one of the largest globally, with a loan book of $150 billion across the U.S., Canada and parts of Europe. With a primary focus on balance sheet lending, Dan has overseen the origination of more than $1.5 billion in senior debt since joining Wells Fargo in June 2012. Prior to his current role with Wells Fargo, San Diego, Dan held similar positions based in Boston and Chicago. Dan has over 15 years of experience in commercial real estate finance. He earned a bachelor's in business with a concentration in finance from Boston College.
About Greg Fowler
Greg is the founder of FPA Multifamily LLC. He is responsible for the overall direction of the firm and leads the acquisitions and capital markets teams. He started his real estate investing career with the purchase of a dilapidated fourplex 35 years ago. Greg has been the general partner of ten discretionary real estate funds and has acquired more than 650 separate real estate projects valued in excess of $15 billion dollars, including 115,000 apartment units. Previously, he was a commercial real estate broker for Iliff Thorn & Company and was involved with more than $1 billion in sale and lease transactions. Greg serves on the boards of the Campanile Foundation for San Diego State University (SDSU) and NMHC and is a member of ULI, PREA and the Olympic Club. He earned a bachelor's in finance from San Diego State University and a degree in real estate development from the University of California, San Diego.
About Sarah Kruer Jager
Sarah joined the Monarch Group in 2005 as a founding member of the Monarch Investment Fund's real estate private equity funds family. She works with the founding partners to set strategic direction and oversees day-to-day business activities for all of Monarch's investments. Sarah leads the acquisition, predevelopment, finance, asset management and disposition functions and manages relationships with Monarch's capital partners. While at Monarch, she has acquired, developed and sold more than $1 billion in real estate investments, including more than 7,500 residential units throughout the Western U.S. Prior to Monarch, she worked in the mergers & acquisitions and diversified industrials groups at UBS Investment Bank in Chicago. Sarah serves as a member of the Commission on Judicial Performance and the Urban Land Institute (ULI) and is a founding advisory board member of Run Women Run. She received a bachelor's in business, with high distinction, from the University of Michigan Stephen M. Ross School of Business where she was also awarded a four-year full tuition athletic scholarship as a member of the Division I Varsity Women's Golf Team and an MBA in finance from The Wharton School of the University of Pennsylvania.
Map
5998 Alcalá Park
San Diego, CA 92110