Net Impact San Diego Hosts Sustainable Entrepreneurship Panel at USD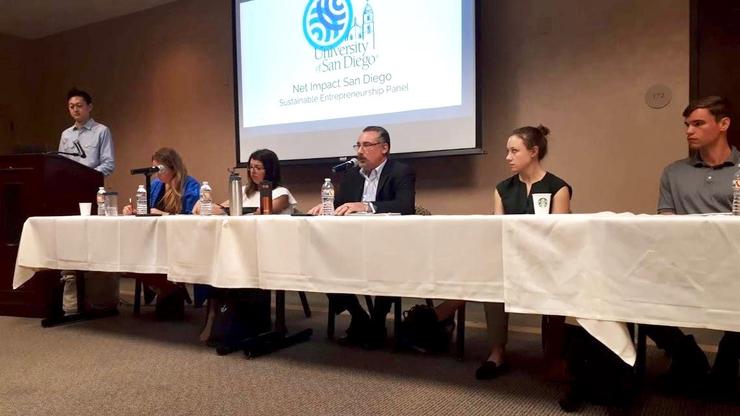 begin quote

Gergler and Daley discussed the vital importance of sustainable waste management and recycling practices within the context of our global environment, emphasizing that to succeed in this industry, one must 'not only talk the talk but walk the walk.'
Written By: Alan Pleat, MBA '20 and Net Impact San Diego Director of Marketing
On March 18, Net Impact San Diego, a USD School of Business graduate student club, hosted the Sustainable Entrepreneurship Panel here at USD. The event featured speakers representing three local sustainability-oriented organizations including Great Ecology, Torrey Project, and Resource Management Group (RMG).
Speaking on behalf of Great Ecology, Laurel Lees and Marlene Tyner-Valencourt (who recently left Great Ecology for a position at WRA) provided valuable insights into the world of ecological sustainability, stressing the importance of increased implementation of conscious capitalism principles and stakeholder-focused business goals within the realm of large corporations.
David Ferran from Torrey Project also participated in the panel discussion. Ferran is the founder and CEO of several highly successful semiconductor technology companies including Ferran Technology, Reno Sub-Systems Canada, and Akrion, among others. He revealed that many businesses in the sustainability industry are exclusively focused on profit generation and intentionally turn a blind eye to stakeholder-focused business practices. This unfortunate reality inspired Ferran to start the Torrey Project-- a San Diego-based non-profit start-up incubator that strives to develop the business visions of stakeholder-focused entrepreneurs.
Rounding up the panel were Jonathan Gergler and Erika Daley from RMG. Gergler and Daley discussed the vital importance of sustainable waste management and recycling practices within the context of our global environment, emphasizing that to succeed in this industry, one must "not only talk the talk but also walk the walk." Headquartered in San Diego, RMG is a nationwide leader in providing multi-regional waste and recycling management solutions. The panel successfully highlighted various issues in regards to sustainable business practices from the perspective of three different fields within the industry. They also shared with students what it takes to position oneself to land a coveted job in sustainability upon graduation.
The Sustainable Entrepreneurship Panel was organized by board members of the Net Impact San Diego Club including President Andrea Lakier, Vice President Udayan Saha, Director of Operations David Li, Director of Marketing Alan Pleat, Director of Event Planning Fred Graves, and Secretary Neal Minton. The team also partnered with co-sponsors NAWMBA to coordinate the event.
Net Impact San Diego works with emerging leaders to help create a more sustainable world. It was relaunched and rechartered this year as a graduate student club that Lakier and Saha have revitalized and turned into one of the most active graduate clubs at USD.
Visit our website to find out more about Net Impact San Diego and discover other USD School of Business student clubs.
Map
5998 Alcalá Park
San Diego, CA 92110