The Graduate Business Referral Program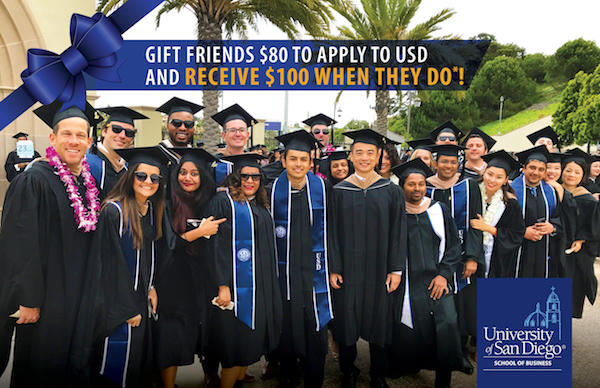 The Graduate Business Referral Program is geared at encouraging student and alumni referrals to graduate level programs within the University of San Diego School of Business. The program aims to recruit and attract the brightest and best students.
Do you know anyone who is interested in building their future in real estate and taking their career to the next level via the Master of Science in Real Estate (MSRE) program? MSRE students and alumni are encouraged to share their experience with prospective MSRE candidates. By doing so, the School of Business will waive the applicant's application fee (an $80 value).
As a thank you, the School of Business will send you $100 when the student that you referred completes his or her first class! All you have to do is fill out the referral form.
Applications for the MSRE program must be submitted by June 1, 2019. Contact Ashley Adams, community outreach and MSRE recruitment manager, for more information.
Map
5998 Alcalá Park
San Diego, CA 92110