Meet Professor John Demas Video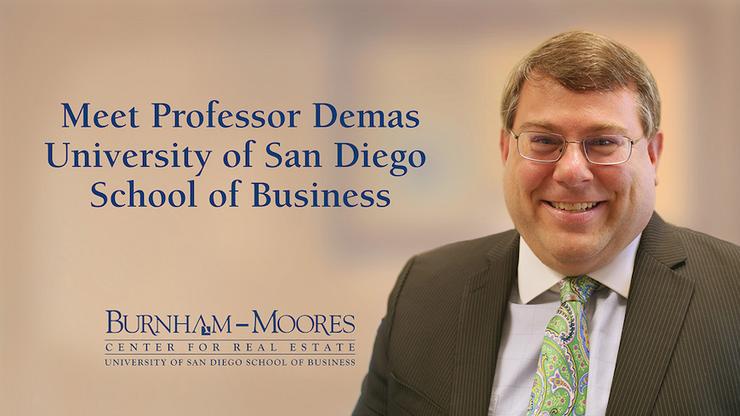 As part of its video series, the Burnham-Moores Center for Real Estate, in conjunction with the University of San Diego School of Business, released its seventh video, titled "Meet Professor Demas."
As clinical professor of real estate, Professor Demas brings a diverse background of accounting, tax, legal and real estate experience to both the School of Business' accountancy programs and to the Burnham-Moores Center for Real Estate. He currently teaches undergraduate real estate courses as well as a graduate Master of Science in Real Estate (MSRE) Law & Public Policy course.
Professor Demas' current estate planning practice is with Goode Hemme & Barger APC. His applied research interests focus on pedagogy, tax, real estate, sustainability and succession planning. He is licensed before the U.S. Supreme Court, U.S. Court of Federal Claims, U.S. Tax Court, Federal, 9th and 10th Circuits and California and Colorado state courts. He holds a LEED AP BD+C Certification with the U.S. Green Building Council. Demas also serves as strategic advisor, trustee and director of select privately held organizations.
Map
5998 Alcalá Park
San Diego, CA 92110