USD School of Business Faculty Explore the Global Business Environment of Madrid and Casablanca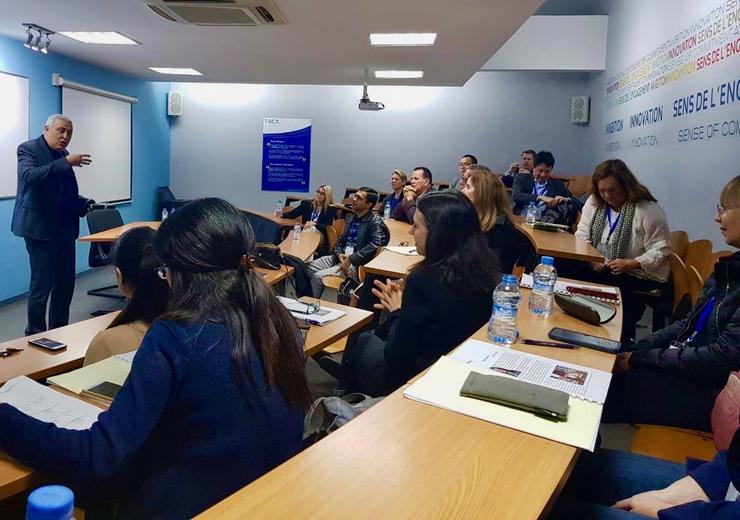 begin quote

Our visit to Morocco was a transformative experience for me. Having never visited the continent of Africa before, I did not really know what to expect.
Over Spring Break, a cohort of our USD School of Business faculty embarked on a Faculty Development Trip to Madrid, Spain and Casablanca, Morocco, an experience facilitated by the Ahlers Center for International Business and led by Dr. Denise Dimon, director of the center and associate provost for international affairs. While Spring Break is a time for students to take a reprieve from classes and enjoy time away from academics, our faculty use this time to reassess, reevaluate, and re-adjust for the remaining Spring semester. Many others set off to international destinations to collaborate with academics abroad, learn about foreign business environments and become more culturally adept through our annual faculty development programs.
When faculty touched down in Madrid, Spain, their first destination was a cultural visit to the internationally renowned Prado Museum, housing artistic masterpieces by the likes of Rembrandt, Goya, Raphael, among others. From there, they walked a few blocks over to our very own USD Madrid Center - USD's first permanent international location - for a lecture on the political and economic environment in Spain by Dr. Gayle Allard from the IE Business School.
The following day, our faculty toured several Spanish companies including Mahou San Miguel, the producer of over 70% of the beer consumed in Spain; Santander Financial City, the hub of multinational commercial bank, Santander, and the largest Spanish banking institution in the world; Iberdrola, a Spanish public utility company with a strong focus on sustainability; and Logista, Spain's leading distributor of products and services.
Our faculty also visited Microsoft Iberia, where they participated in an engaging conversation with the President of Microsoft Spain, Pilar López. Ms. Lopez has an undergraduate degree from the Universidad Pontificia Comillas' business school, ICADE, a USD partner in the International Partnership of Business Schools. Finally, they attended a discussion hosted by Iván Nabalón, CEO of Electronic Identification (eID) and Rodrigo García de la Cruz, president of the Spanish Association of FinTech and Insurance, on the fintech scene in Madrid and its draft legislation to create Spain's first regulatory sandbox.
"We got the opportunity to meet great examples of humble leaders in Madrid, especially President Pilar López of Microsoft Spain, who displayed both a fierce professional will and extreme personal humility. Being able to hear her thoughts on leadership and management was a wonderful experience and very inspiring," shared Associate Professor of Operations Ruixia Sandy Shi.
Traveling even further South into the Mediterranean region, our faculty switched gears to learn about Morocco's business environment in Casablanca, Morocco. Before delving deep into these topics, they explored the Hassan II Mosque and meandered through the winding streets of Casablanca and the Habous Quarter, also known as "the new medina."
The next day, they visited the ESCA Ecole de Management, a USD partner institution, where they attended sessions on the opportunities and challenges of doing business in Morocco, as well as on the new frontiers of Moroccan geopolitics. On International Women's Day, our faculty was treated to discussions from two inspiring Moroccan women, Nawal El Moutawakel, the first Muslim-born female in Africa to win an Olympic gold medal, and Mouna Kadiri, head of the Africa Development Club of the Attijariwafa bank group.
"Our visit to Morocco was a transformative experience for me," said Director of the USD Center for Peace and Commerce and Professor of Operations Management Amit Kakkad. "Having never visited the continent of Africa before, I did not really know what to expect except for the bleak picture of Africa painted by most socio-economic indicators. Even though I knew that north African countries are a world apart from the sub-Saharan African countries, I had to experience it to believe it. Starting with a lively commentary from Professor Abdelkarim Raddadi, the short visit continued to build up with highly engaging presentations from Professor Brahim Allall, Professor Nabil Adel, Ms. Nawal El Moutawakel, and others. Dinner at Rick's Café, a re-creation of the cafe in the movie Casablanca, was the icing on the cake."
As part of our commitment to fostering a global mindset in our faculty and students, the USD School of Business and Ahlers Center for International Business are proud to offer our faculty opportunities that allow them to further develop their expertise and expand the global perspectives of their teaching. In our classrooms, students are guaranteed to have an international experience before they even cross a border.
Map
5998 Alcalá Park
San Diego, CA 92110