SkyClope and Boki Win the First Latin American Track of USD V2 Pitch Competition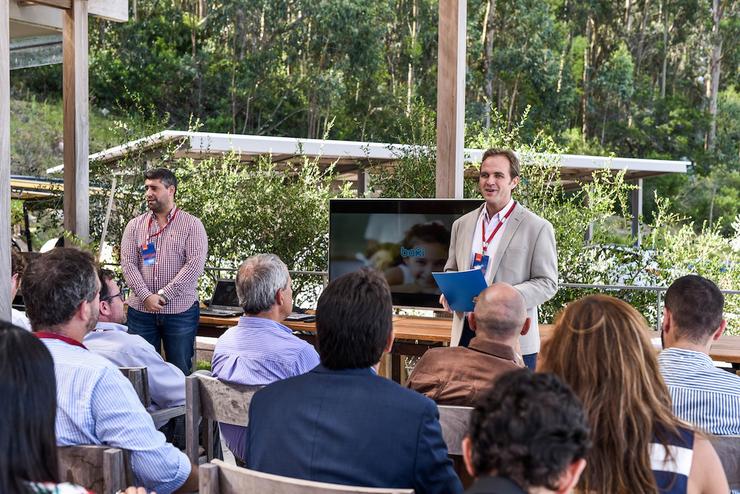 begin quote

These teams impressed a panel of angel investors with socially responsible startup ideas that aim to improve both our environment and access to education.
"Shark Tank meets academia" at our Venture Vetting (V2) Pitch Competition, the largest campus-wide pitch competition at the University of San Diego where students have the opportunity to pitch their ideas to a real group of angel investors for a chance to win real money to start their ventures.
Four years ago, in alignment with the USD School of Business' commitment to building international relationships, we globalized our competition and launched a bi-national track, inviting student entrepreneurs from Baja California to compete. Last year, we expanded the competition across even more borders by launching a Latin American track in collaboration with the Universidad ORT in Uruguay. Each track, including the USD student track, holds their own pitch competition and sends their finalists to compete at the annual USD V2 Pitch Competition.
Last month the Universidad ORT and USD proudly came together to host the Latin American track's first-ever pitch competition at a beautiful vineyard in the town of Edén in Uruguay. Student entrepreneurs from business schools all over Latin America presented their venture ideas to a group of investors and business executives at the first international pitch competition in the region.
This event also represented the first activity organized by the "Spring Network," a network of business schools known for their emphasis on innovation and entrepreneurship including Universidad de San Andrés (Argentina), Universidad del Desarrollo (Chile), ESPAE Graduate School Management–ESPOL (Ecuador), ESAN Business School (Perú) and Universidad ORT (Uruguay).
The two winning teams that will be traveling to San Diego in April to compete at our USD V2 Pitch Competition are SkyClope and Boki. These teams impressed a panel of angel investors with socially responsible startup ideas that aim to improve both our environment and access to education.
SkyClope, a company from Chile, won by a unanimous vote for its potential to positively impact the environment. This venture uses drones to offer technological solutions to the mining, construction and energy industries, collecting aerial data to help businesses make better data-driven decisions. They also aim to locate mines within inaccessible zones with their drones, saving the lives of miners.
The second company that will be joining us this year is Boki, an educational web platform from Uruguay that supports a new generation of learning. This application integrates software, pedagogy, and videogames to spark curiosity and motivation in students.
As the V2 process continues with our USD track, we are eager with anticipation to select the final three teams that will be represented by our students to compete at this year's USD V2 Pitch Competition in hopes of winning up to $20,000 to turn their startup idea into reality.
The 8th Annual USD V2 Pitch Competition will take place on April 25 here at USD and will be open to all USD students and members of the San Diego startup community. It is guaranteed to be a showcase of some of the brightest and most innovative startups our university and Latin American partners have to offer. Our previous winners have launched startups that bridge together generations, reinvent products, make the world safer, increase access to health services, and more.
San Diego breeds innovation and the USD School of Business is proud to be a part of the San Diego startup ecosystem, offering numerous resources and opportunities for students and community members alike to foster their entrepreneurial endeavors.
Map
5998 Alcalá Park
San Diego, CA 92110