Recap of Breakfast at the BMC Event Featuring Mitch Roschelle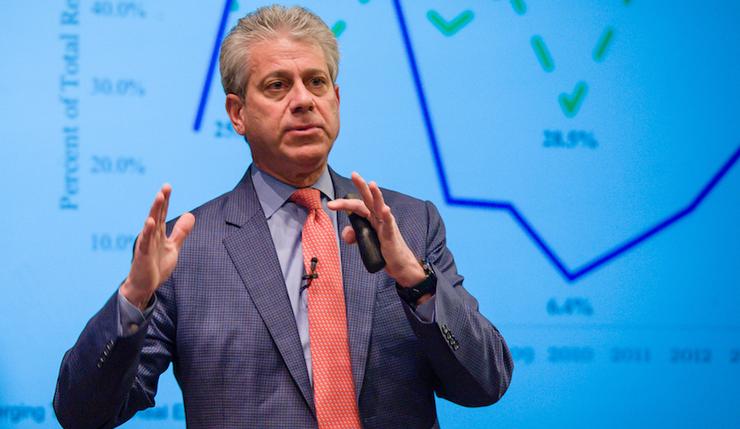 On Feb. 6, the Burnham-Moores Center for Real Estate (BMC) hosted its Breakfast at the BMC Lecture Series. The event highlighted the highly anticipated PwC and Urban Land Institute's Emerging Trends in Real Estate® 2019 report.
Mitch Roschelle, partner and business development leader at PwC, delivered the report, now in its 40th year, to a sold-out crowd of more than 280 attendees. The Emerging Trends in Real Estate® report is the oldest and most highly regarded annual industry outlook for the real estate and land use industry. The report offers information on where to invest, which sectors and markets offer the best prospects and discover trends in the capital markets that will affect real estate this year.
Some take-aways from Mitch's presentation:
"Over the course of your RE career what do you feel has been the most significant event/change to the industry? Three key responses include: global financial crisis; REITS; and securitization."
"Long economic expansions aren't that uncommon around the world."
"We are not dependent on the housing market...we are less dependent on residential investment for GDP growth. We are consumer oriented and a service sector economy— that is the sweet spot for RE."
"Amenities gone wild: 81% of employers feel that proper amenities are one of three things they can offer employees...but who pays for it?"
A special thanks to Mitch Roschelle and to our sponsors for a great event.
Download the Emerging Trends in Real Estate® report on the PwC website.

Follow Mitch Roschelle on Twitter: @Mitch_Roschelle
View photos of the event.
Read GlobeSt.com's coverage of the event.
Map
5998 Alcalá Park
San Diego, CA 92110