Patrick Kappel '19 MSRE Recognized at SDAR's Circle of Excellence Awards Ceremony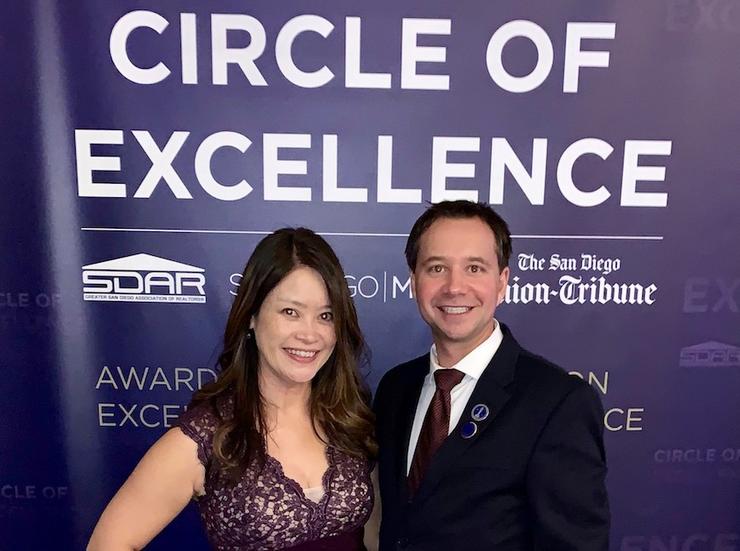 Patrick Kappel, '19 MSRE, was recently recognized as the recipient of multiple awards at the San Diego Association of Realtor's (SDAR) Circle of Excellence awards ceremony held at the Hilton Bayfront in San Diego on January 12. He was called to the stage to be recognized for "Platinum Agent" status, placing him in the top one percent of all agents in San Diego County based on the number of transactions completed in 2018. Patrick was also recognized for three other honors, including: "Platinum Team" status as a member of Reef Point Realty; SDAR's "40 Under 40" recognition; and as one of three finalists for "San Diego Realtor of the Year"— the highest award a San Diego real estate agent can earn.
Patrick shared how the Masters of Science in Real Estate (MSRE) program at the University of San Diego School of Business has played a role in his success.
"I have only been a licensed real estate agent for two years and there is no way that I could have achieved this level of success so quickly without the knowledge, education and opportunities that I have gained through the USD MSRE program," says Patrick. "Eighteen months ago, I had never previously sold a single property in my life. I was accepted into the MSRE program and, in the last 18 months while also attending school, I have sold more than 40 properties, comprised of more than 60 units, valued in excess of $33 million. Everything that I learn in the classroom I teach to my clients. I employ the knowledge from the MSRE program in all of my transactions and that has made all of the difference."
REALTORS® who exemplify excellence amongst their peers are eligible for one of SDAR's long-standing Awards of Excellence. These include "REALTOR® of the Year," "Office Manager of the Year," "Affiliate of the Year," "Rookie of the Year," "Commercial Transaction of the Year," "Commercial Broker of the Year," "40 Under 40 Award," "International Award," and "Real Estate Specialist Award." The winners are selected by their industry colleagues through votes cast before the event as well as by the volume and number of transactions completed for either "Platinum," "Gold" or "Silver" status.
Patrick currently works at Reef Point Real Estate, a veteran owned and operated company, where he sells residential and multifamily units, with a specialization in two to four-unit properties. He previously worked for Marcus & Millichap in real estate investment sales. Prior to a career in real estate, Patrick served in the military for eleven years as an officer on active duty in the U.S. Navy. He will graduate from the MSRE program this spring. Patrick received a bachelor's in english language and literature from the United States Naval Academy and an MBA with a focus in finance and entrepreneurship from the UCLA Anderson School of Management. Along with attending USD and working full time in real estate brokerage, Patrick sits on the Southern California Rental Housing Association's Legislative Steering Committee. He also manages a small portfolio of San Diego real estate and serves one weekend per month as a lieutenant commander in the U.S. Navy Reserves.
Map
5998 Alcalá Park
San Diego, CA 92110