Why Alumni Connections Really Matter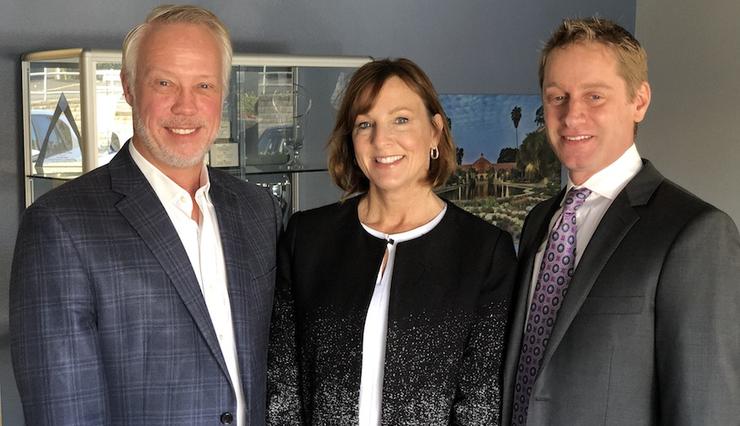 Some people have a gift for connecting people and ideas. For University of San Diego School of Business alumna Deborah Norwood Ruane '14 MSEL, every experience has been a brush stroke in the formation of a much bigger picture. A budding entrepreneur and proven leader in affordable housing finance and development, Ruane is the ultimate "connector"—an expert in identifying, maximizing and unifying the resources necessary to progress toward an optimal solution.
Ruane's connectivity to people not only runs deep with major real estate industry players in San Diego, but also as it relates to the University of San Diego itself. As a USD alumna, she is actively engaged with the university as a guest lecturer, as a speaker at a number of Burnham-Moores Center for Real Estate conferences and through her newest endeavor with the founding of Norwood Development Strategies.
Ruane's new venture is a real estate consulting firm, specializing in solutions for the creation of multi-family housing, serving individuals and families who cannot afford the high cost of housing. Through her new company, it is her greatest example yet of her ability to connect people and resources to an important mission—helping to solve the affordable housing crisis. Norwood facilitates collaborative solutions for developers, financial institutions and local jurisdictions to address housing shortages in major metropolitan areas.
"I love working in and leading teams, but I started my own, one-woman company because I felt a need to bring together my experiences in banking, development and government into a more concentrated effort to attack our housing problems," says Ruane. "I still yearn to be a leader and mentor to others and continue to build teams."
Ruane reached out to Stath Karras, executive director of the Burnham-Moores Center, when she needed some assistance with research for her projects. "Stath's response to my request was sincere and immediate—he put out a call to students and got a rapid response," says Ruane.
As a result, Ruane engaged two USD School of Business Master of Science in Real Estate (MSRE) students Eric Richards '19 MSRE and Brian Jacobs '20 MSRE to join her team for an important and time-sensitive project.
"I was very fortunate to meet Eric and Brian, two amazing graduate students who are eager, hard-working and curious," says Ruane. "They had experience from other positions which gave them added depth, and in turn, has helped me look at challenges through a different lens. I also want to work with the smartest, most innovative students in real estate who are being taught by some of the best professors and industry experts. Problem-solving is best achieved when you can talk about it as a team and bounce ideas off each other. I am not done learning yet, and by working with students, I learn something new every day—it's a win-win!"
Jacobs and Richards shared with us that they are very happy to be working with Ruane and shared similar sentiments about their opportunity to gain more experience in the industry working side-by-side with a USD alumna.
"The internship opportunities offered through the Burnham-Moores Center allow for alumni-student engagement," says Jacobs '20 MSRE. "These experiences are essential because they help connect the academic community with local business leaders and they allow a student to network and form lasting business relationships. My involvement in Debbie's consulting project has truly borne this out. It's a real privilege to work with her and it's been an extremely rewarding learning experience. I've been able to participate in meetings with the BIA, local developers such as CityMark and AmCal, and with representatives from the public sector, including Lara Gates, deputy chief of staff for Georgette Gomez, and Stephen Hill from Todd Gloria's office. Additionally, I've had the opportunity to interact with planning representatives from various cities in San Diego County where underutilized transit-oriented sites are located and where development is being targeted. All of this exposure is invaluable to me as I continue to pursue a career in development and community building in San Diego."
Ruane wants to ensure that talent retention in the real estate industry is high so that students, who offer fresh perspectives, can help address ongoing issues affecting San Diego, such as homelessness and the inadequate supply of affordable housing.
"USD and the Burnham-Moores Center are in a unique position to engage with our communities to help solve local problems and help bring innovative solutions to our region at a time when we need it the most," says Ruane. "USD students offer fresh insights and perspectives to businesses through internships at local real estate companies. Those companies reap the rewards of smart, fresh talent who offer new solutions to challenges our community faces."
Richards '19 MSRE shared how his work experience with Ruane has given him insights into real projects affecting San Diego and how his contributions are helping to make a difference.
"A year and a half ago I began the MSRE program—I was looking to develop a framework for my experience in suburban and urban infill residential developments in conjunction with a superior education," says Richards. "Those goals and aspirations have been more fulfilled then I could have ever imagined. Through the strong alumni association and the amazing team of professionals at the Burnham-Moores Center, I was able to begin working with the well-known and respected San Diego housing expert Debbie Ruane. I have had the opportunity to learn first-hand about transportation-oriented development, meet key players in the industry and I've been given the opportunity to participate in writing the Metropolitan Transportation Systems (MTS) joint development procedures, which will help to transform the land available within the MTS system."
As a USD alumna, Ruane aspires to support her alma mater by continuing to offer work opportunities to students and help connect them to the various areas of this multi-faceted industry.
"It gives me immense pride and gratification to be a mentor to USD students and I feel it is my calling to help them make industry connections," says Ruane. "You never know who you're going to meet, what you're going to learn, or how it could change or augment your life. Even a few hours a week in an internship can result in a life-long learning experience."
"Debbie has a keen ability to connect different ideas, viewpoints and people to achieve a common goal," Karras. "We are consistently impressed with her leadership within the industry, her expertise with affordable housing issues and with her on-going support of the BMC's mission to support USD real estate students."
Ultimately, Ruane's successes and ability to influence through her connections stems from her knack of bringing people and ideas together. The founding of Norwood Development Strategies enables Ruane to offer more than 30 years of experience in the real estate industry, in collaboration with good people, to accomplish the ultimate goals of her clients. Ruane has served as a guest lecturer in graduate-level programs at USD since 2013. Previously, she was the executive vice president, chief strategy officer for the San Diego Housing Commission; served as vice president for affordable housing development at Fairfield Residential; and was senior vice president of the Community Development Banking Group at Bank of America.
Ruane's commitment, engagement, exceptional leadership and connectivity of students to the industry is a prime example of why connections really matter—especially alumni connections. Ruane recognizes the incredible benefit that comes with working with students—their curiosity, excitement and fresh perspectives.
Map
5998 Alcalá Park
San Diego, CA 92110