MSRE Students Travel to Asia for Intersession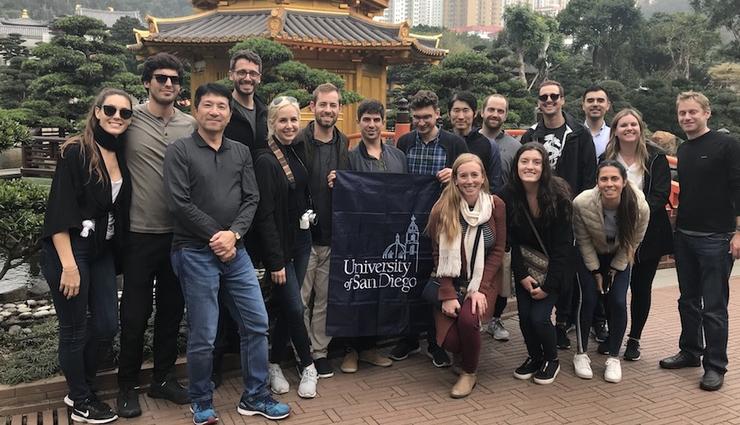 In Jan., Charles Tu, the Daniel F. Mulvihill Professor of Commercial Real Estate and academic director of the Master of Science in Real Estate (MSRE) program, Ashley Adams, community outreach and MSRE recruitment manager, 15 MSRE students, one MBA student and three guests of the students ventured to Asia during Intersession. The group spent five nights in Taipei, Taiwan and six nights in Hong Kong. This annual trip allows graduate students to get a taste for real estate overseas while learning from USD's world-class faculty.
This study abroad program allows students to learn about capital markets as well as the business and economic environments of both Taiwan and Hong Kong through coursework, company visits and a variety of sociocultural group activities. During the trip, students participated in a Commercial Real Estate Capital Markets course taught by Charles Tu from Jan. 9 - 18, which spanned both destinations.
In celebration of the first day of class, the group ventured to the original Din Tai Fung restaurant (see photo), which recently opened a new location in San Diego in UTC. It's been rumored that there is a three-month wait list to get a reservation at the San Diego venue, so this was an extra exciting lunch for the foodies in the group.
In addition to classroom lectures and activities' students visited:
- Taipei 101, which for years was the tallest building in the world. Now, it is still revered as one of the top five tallest buildings in the world. Taipei 101 boasts its title as the first supertall building in the world to have achieved a LEED Platinum status. USD students learned about the history of the building, asked questions and enjoyed a tour of the building's impressive recycling center which separates their recyclables into more than 25 different categories, including batteries and umbrellas.
- Nigel Smith, managing director at Collier International's Hong Kong office met with the group as well. He shared insights into Hong Kong's real estate market and highlighted the vast differences between their market and the San Diego market. Hong Kong boasts the highest commercial real estate rents in the world, which can reflect more than 40 times that of commercial class A office space in San Diego. Smith introduced the group to their top broker and their manager of office services, who not only shared interesting aspects of their work but gave the group a tour through their recently renovated office space in Central Plaza on Hong Kong Island, a beautiful building with views that will leave you breathless.
Students also had the opportunity to experience the rich culture of Hong Kong and Taipei. The group visited popular tourist spots such as Yehliu Geopark, Jioufen, and Shifen in Taiwan. In Hong Kong, the group visited Nan Lian Garden, Chi Lin Nunnery and Victoria's Peak; enjoyed dinner at the Happy Valley Racecourse; and rode the famous Peak Tram and Jumbo Jet Ferry. The trip also included an excursion to Macau, visiting the A-Ma Temple, the Ruins of St. Paul and the Macau Tower.
During Intersession, there were also approximately 50 undergraduate students in China. The University of San Diego School of Business held their "Seven-by-Seven Global" event in Hong Kong, so the MSRE group met up with USD undergraduate students, as well as USD alumni, friends and others at the event. Tu and Kurt Luedkte '18 MSRE were featured speakers at this event, which had a total of approximately 130 attendees.
View photos of the trip.
Map
5998 Alcalá Park
San Diego, CA 92110