Take Your Real Estate Career to the Next Level: How I Gained a Better Understanding of Key Real Estate Concepts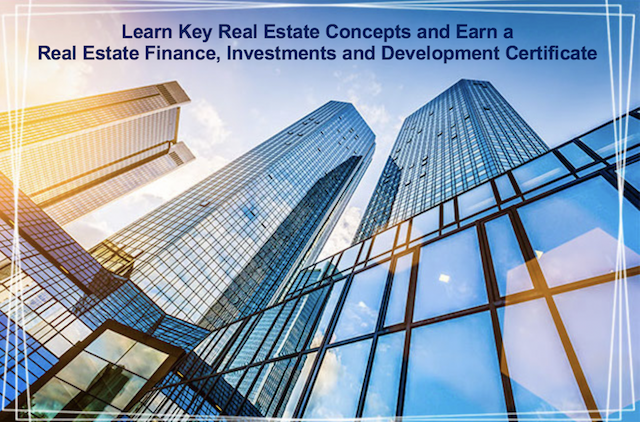 Take Your Real Estate Career to the Next Level: How I Gained a Better Understanding of Key Real Estate Concepts By Kimberly Malasky, Director of Communications and Marketing

As the director of communications and marketing at the Burnham-Moores Center (BMC) since 2013, a portion of my role involves collaborating with the Professional and Continuing Education (PCE) team to help co-market/co-brand the Real Estate Finance, Investments and Development Certificate program, a joint venture between the BMC and PCE at the University of San Diego.
This piece is included in our newsletter to share some insights into my personal experiences partaking in the certificate program. You may have considered taking a few of the course offerings or the full certificate, but may not have taken the plunge because you may not know what's involved. Because the BMC's mission is a student-centric one, hearing from a "student" is often the best testimonial.
I chose to pursue the real estate certificate program for two main reasons: 1. So that I could provide objective feedback and recommendations on any improvements that could be made to help ensure that attendees were getting the best experience possible; and 2. To enhance my knowledge within the various areas of real estate, which would be very beneficial to me in my role at the center.
I began the certificate program in mid-2016 with the Legal Aspects of Real Estate course. This was my favorite course because of my interest in the legal profession. My father and brother are attorneys, so for many years I contemplated pursuing a JD. The instructor for this course was spectacular and the case studies presented were fascinating and relevant.
As a side note, given my lifelong interest in the legal profession, the new JD/Master of Science in Real Estate (MSRE) dual degree offered at the University of San Diego School of Business fascinated me when I learned it was being launched in 2018. It is an outstanding option for those looking to build a great future in real estate and compress the timeframe to earn two degrees. In many cases, the Real Estate Finance, Investments and Development Certificate program has served as a feeder and/or starting point to the MSRE program for those pivoting into real estate or wishing to advance their career with a master's degree.
Following the Legal Aspects of Real Estate course, I continued to attend subsequent required courses, including Development Feasibility; Managing the Entitlement Process; Urban Development Strategies; Real Estate Investment and Income Analysis 101; and Real Estate Finance. I also took two electives: Property Management and Asset Management and a capstone course. Note that there are few other elective course options which students can select from. Each course is four weeks in length, one time per week and is held in the evenings for a little over three hours. The courses are taught by well-respected executives in the real estate industry in San Diego. Besides the awesome instructors leading each course, each instructor brought in industry guest lecturers which added greatly to the value of the content being offered.
For me, one of the highlights the certificate program was the diversity of attendees in the courses—from recent graduates to industry professionals wanting to brush up their skills in a specific segment of the industry to those pivoting into real estate (military among others). Moreover, I was pleasantly surprised to see the vast number of women in each of the classes. This class diversity greatly enhanced classroom discussions. Each course offered ripe content and different perspectives, greatly increasing the learning environment. A bonus was the networking opportunities from these real estate certificate courses which opened the door to meeting so many great people from various areas of the industry, a key component in the real estate industry. Connections and building relationships are everything!
I officially completed the Real Estate Finance, Investments and Development Certificate program in Dec. 2018. The certificate program has given me a library of relevant real estate content which has given me great confidence in preparing stories for the BMC or when I am conversing with members in the industry—I have a much better understanding of key real estate concepts.
If you are interested in pivoting into the real estate industry or are interested in brushing up your skills in a few areas of real estate, this is a great way to enhance your real estate career. It is also a great opportunity for real estate companies to offer their employees professional development and continuing education which will benefit the company's bottom line.
If you have any questions about my personal experience with the certificate program, please send me a message at kmalasky@sandiego.edu. You may also contact my colleague, John Ferber, Burnham-Moores Center liaison for the Real Estate Finance, Investments and Development Certificate program at jferber@sandiego.edu.
Learn more and register for the real estate certificate courses. For a limited time, use coupon code "BMC10" to get 10% off your next real estate certificate class. Offer good through March 31, 2019. Coupon is not transferable to another person or non-real estate courses.
Map
5998 Alcalá Park
San Diego, CA 92110