Why You Need a Next-Generation Approach to Executive Leadership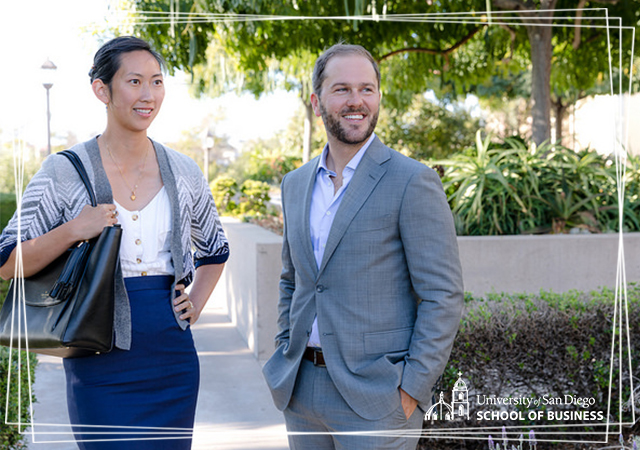 begin quote

No matter the path you took to get where you are, possessing a fundamental understanding of how an organization—and the people within it—operate is an essential characteristic of a successful leader.
Whether you have risen through the ranks at your current organization or are venturing into new territory, the high-level skills required to be an effective, inspiring leader don't simply appear over time. No matter the path you took to get where you are, possessing a fundamental understanding of how an organization—and the people within it—operate is an essential characteristic of a successful leader.
Graduate programs that emphasize leadership principles are gaining traction as a way for executives to build upon the hard skills they have gained over the course of their careers. These programs help leaders develop a broader understanding of their organization and increase their ability to foster high-performing teams through values-based leadership.
At the University of San Diego (USD) School of Business, we have designed our Master's in Executive Leadership (MSEL) degree program specifically to help busy executives gain valuable business acumen while mastering the interpersonal skills necessary to make a meaningful organizational impact—and define their legacy of leadership.
Become a Next-Generation Leader
At the USD School of Business, we are committed to developing next-generation leaders through a servant leadership model. In this side-by-side leadership approach, people are considered an organization's most important asset. Leaders give direct reports the proper levels of direction and support, empowering them to perform at their full potential.
Drawing upon the teachings of renowned author, speaker, and business consultant Dr. Ken Blanchard, the MSEL program at USD has a dual focus: the development of both strategic and operational leadership skills.
Develop Strategic Leadership Skills
As a leader, you need to know enough about what everyone in your organization does to be able to manage each function at a high level and protect the business from risk. Few things are more frustrating to employees than a leader who doesn't know who is responsible for what. Leaders need to be highly knowledgeable about key areas of the organization—particularly finance, marketing, and production—in order to help optimize processes and ensure the business is operating at maximum efficiency.
This isn't to say you have to become a statistician in order to communicate with your analytics team. However, you do need to be able to interpret the data they furnish and apply it to make strategic decisions that support your corporate objectives. With a master's degree in executive leadership, you will better understand the core functions of your business so that you can mitigate risk, communicate more effectively with all departments, and lead your organization at a higher level.
Develop Operational Leadership Skills
In addition to strategic skills, the MSEL program also teaches the operational skills leaders need to succeed. As they master Blanchard's SLII® model, executives in the program develop lifelong skills for providing people what they need, when they need it. This situational approach to leadership encourages a more productive and engaged workplace.
The bottom line is simple: effective leaders are interested in more than just managing operations. They want to make a positive difference. Next-generation leaders are just as focused on results as are their current generation counterparts. The difference lies in how they achieve those results—by understanding the big picture and empowering their teams to work together to move the organization forward. To quote Dr. Blanchard, "Profit is the applause you get for creating a motivating environment for your people and taking care of your customers."
Acquire a Global Perspective
When we talk about the value of business acumen in today's economy, the term global is often front and center of the conversation—especially here at USD. Our mission at the School of Business is to develop socially responsible leaders with a global mindset through academically rigorous, relevant, and values-based education and research. Because our MSEL cohorts often comprise leaders of large, multinational organizations, it is imperative that we instill these principles as part of our core curriculum.
For this reason, studying abroad is a mandatory component of the program. In fact, nearly 100 percent of students who attend the USD School of Business will participate in at least one international experience during their time with us. With the global perspective you gain from both a one-week study abroad class and case studies discussed in your classes in San Diego, you will gain a deeper understanding of how to conduct business internationally, as well as how to manage a culturally diverse team within your organization.
Be the Leader You Envision Yourself to Be
A Master's in Executive Leadership from the USD School of Business will empower you with both the hard and soft skills necessary to lead your organization at a higher, more strategic level. We will work to instill the core business expertise you need to develop viable strategies that improve the financial performance of your company as well as the interpersonal skills that motivate your team to execute on those strategies.
This program will help shape you into a truly transformational leader. But don't take just our word for it.
"There were plenty of executive MBA programs out there. What stood out to me in USD's program was the focus on connecting with people not just in the head, but also in the heart. I also knew the global perspective would yield invaluable lessons in leadership."
Garry Ridge '01, President and CEO of WD-40 Company
Accelerate your leadership journey by learning more about the MSEL experience.
Map
5998 Alcalá Park
San Diego, CA 92110