Burnham-Moores Center's Policy Advisory Board Holiday Event Highlights Special Guests and Celebrates #1 Ranking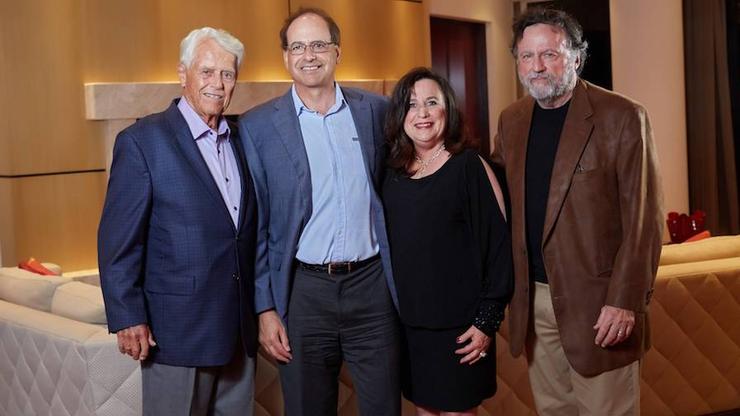 The Burnham-Moores Center for Real Estate's (BMC) policy advisory board (PAB) held its annual holiday event on November 29 at the beautiful home of PAB member Mark Gleiberman, CEO of MG Properties Group, and his wife Hanna. As guests sat down to dinner Mark offered welcoming remarks to the group. Following those remarks, Stath Karras, executive director of the BMC also welcomed everyone to the special evening, which included the BMC's namesakes, Malin Burnham and John Moores, along with their spouses. Mark Riedy, BMC's founding executive director and his wife, Erin, also attended the event.
The theme of this year's event was the celebration of USD's ranking as the #1 real estate college in the U.S. for the second year in a row. Stath expressed his deep appreciation to all members of the Burnham-Moores Center's policy advisory board for the many contributions they provide as direct links to industry for both undergraduate and graduate USD real estate students.
"This coveted ranking would not be possible without the policy advisory board members' year-over-year guidance and support," says Stath. "As a result, the reputation of excellence of USD's real estate program and the Burnham-Moores Center for Real Estate has grown significantly nationwide."
At the end of the evening, Malin Burnham provided impromptu closing comments praising the collaborative spirit of the PAB, stating that the #1 ranking in the country "is absolutely amazing." He thanked everyone for their help in supporting the USD School of Business real estate students and the Burnham-Moores Center's mission.
Map
5998 Alcalá Park
San Diego, CA 92110