Placing Strategic Bets for the Future: Business for Good is at the Heart of it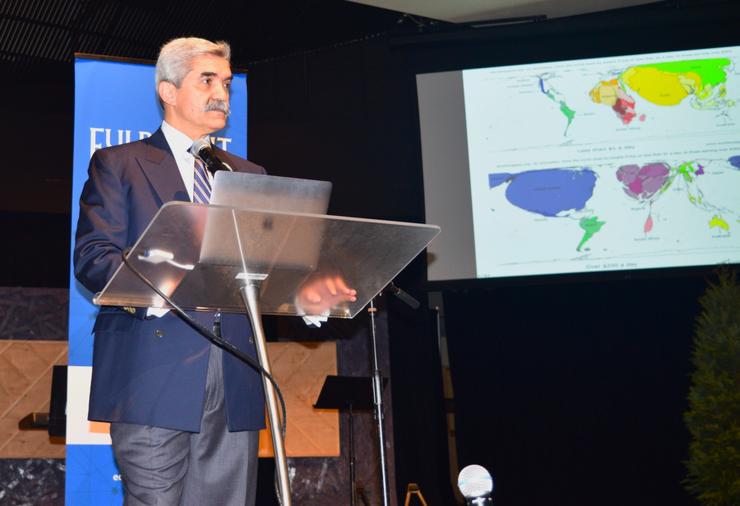 Today, USD School of Business Dean Jaime Alonso Gómez addressed 90 Fulbright Visiting Scholars representing 49 countries across six continents who are on day one of a three-day enrichment seminar focusing on leveraging strategic innovation and entrepreneurship for long-term success.
Dean Gómez asked the scholars strategic questions such as "will we create the future or adapt?" "how will we reinvent ourselves" and "how will we create new leaders who have trust, passion, and problem-solving skills amidst complexity and intercultural competency?"
Since "change is happening with or without our approval," how will we leverage the power of education to create a new reality where business is a force for good and leaders are first concerned about prosperity and the flourishing of humanity?
Fulbright faculty hailing from countries as far as Ethiopia, Brazil and Portugal and of disciplines ranging from informational technology to plant biology and economics, engaged with Dean Gómez on topics of asymmetrical economies, distribution of wealth, green economies and the tremendous opportunities they provide to confront humanity's urgent challenges by redesigning education and research.
The University of San Diego's Center for Peace and Commerce, a partnership between USD School of Business and the Kroc School of Peace Studies, has, along with the San Diego Diplomacy Council and the U.S. Department of State's Institute of International Education (IIE), created an itinerary that includes speakers, experiential site visits, panel discussions, a USD-led Global Social Innovation Challenge explanation and experience, and a final day devoted to reflection and discussion on what has been learned and how to apply it back home. Read more at http://www.sandiego.edu/news/detail.php?_focus=69878.
Map
5998 Alcalá Park
San Diego, CA 92110