Fulbright Visiting Scholars to Learn Strategic Innovation, Entrepreneurship in San Diego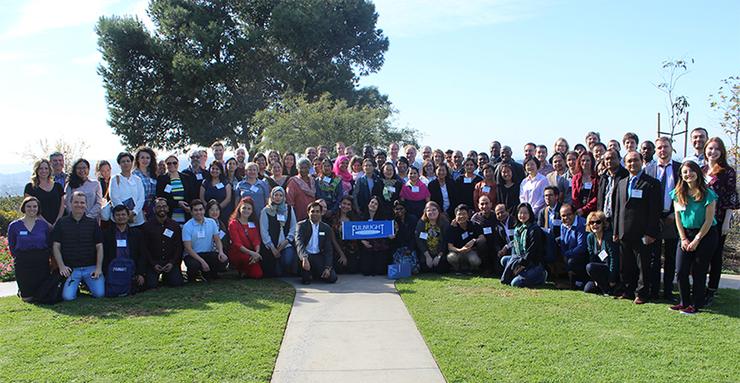 Ninety Fulbright Visiting Scholars representing 49 countries across six continents are set to arrive in San Diego to take part in a three-day enrichment seminar Nov. 29-Dec. 1 focusing on leveraging strategic innovation and entrepreneurship for long-term success.
The University of San Diego's Center for Peace and Commerce, an entity jointly connected to the USD School of Business and Kroc School, has, along with the San Diego Diplomacy Council and the U.S. Department of State's Institute of International Education (IIE), created an itinerary that includes speakers, experiential site visits, panel discussions, a USD-led Global Social Innovation Challenge explanation and experience, and a final day devoted to reflection and discussion on what's been learned and taking it forward.
The host locations are Point Loma Nazarene University's Chapel for Thursday's programming, UC San Diego's Great Hall on Friday, which will feature USD's CPC activities, and the Bahia Resort Hotel for Saturday's reflection and discussion. The conference's opening night event is actually Wednesday with a keynote address by Aviva Paley, co-founder and senior director of Kitchens for Good.
The 90 Fulbright visiting scholars are 44 females and 46 males who represent countries in Africa (four participants), Asia (35), Australia (one), Europe (32), North America (three) and South America (15) and comprise 53 different subject areas including humanities, science and engineering, business, law, literature and arts.
Among the informative sessions are talks by Dr. Jaime Alonso Gomez, USD's School of Business dean, on "Complex Forces Driving Transformational Change Across Economies and Industries"; Vice Chancellor for Instructional Services at San Diego Community College District's Stephanie Bulger, PhD, on Workforce Development and Education Institutions; Caroline Casagrande, JD, deputy assistant secretary for academic programs in the U.S. Department of State's Bureau of Educational and Cultural Affairs; Silvia Mah, PhD, CEO of Hera Labs, will participate in a "The Future is Female" panel discussion; and Center for Peace and Commerce Director Dr. Amit Kakkad and Assistant Director Rachel Christensen will introduce Fulbright scholars to the GSIC from concept to judging and a chance to meet with student entrepreneurs who've participated.
Site visits will take place through San Diego on Thursday, including Qualcomm (Tech for Good), Sempra and Grid Alternatives (Corporate Social Responsibility and Sustainability) and exploring community innovation by visiting Barrio Logan.
This is the second straight year USD has been involved in providing an educational enrichment seminar for international Fulbright scholars. In December 2017, USD hosted 84 Fulbright faculty members from across the globe to discuss topics such as nationally relevant levers of sustainable innovation, sustainable innovation literacy and the role of education institutions in driving sustainable innovation.
— USD News Center
Map
5998 Alcalá Park
San Diego, CA 92110