USD Offers Business Students Dual Degrees of Global Impact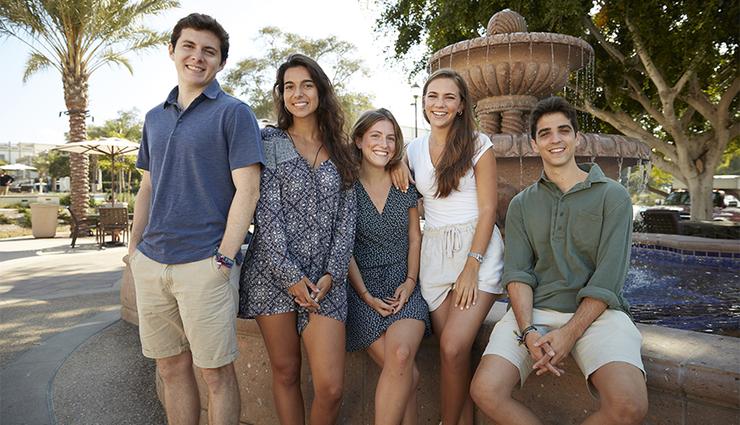 Having new international students working toward an undergraduate business administration degree at the University of San Diego is nothing new. What is new, though, is five students — Angela Gomez Fernandez, Maria Lopez Melendo Goyarrola, Ignacio Lopez Rey, Clara Toledo Pajares and David Alba Burbano — this fall from Spain who are eager to take the next step in their education journey.
They came to USD after spending their first two years of college at Universidad Pontificia Comillas in Madrid. The students are nearly through their first semester at USD and will earn two undergraduate degrees in four years from both USD and Universidad Pontificia Comillas.
It is possible because Comillas and USD are part of an International Partnership of Business School program allowing students to earn dual degrees while spending only two years at each university. Through Comillas' participation in the program, USD's School of Business is one of its destination options.
"Having the opportunity to go to another place, to meet new people and to be in a culture I'm not used to, I'm treating this as a gift," says Goyarrola of her opportunity.
For USD students interested in the dual degree route, Comillas in Madrid, Dublin City University in Ireland, John Cabot University in Rome, Catolica Lisbon School of Business and Economics in Portugal and the University of Strasbourg in France are the choices.
For incoming first-year USD students who choose the Madrid or Rome offerings, they'll attend classes at USD for three semesters before heading abroad for four semesters, beginning with the spring semester of their sophomore year. They'll return to USD for the spring semester of their senior year. Four of the international universities affiliated with USD are two-year degree programs. Strasbourg is only a one-year abroad program, and the plan is for students to be at USD for two years, spend their junior year abroad, and return to USD for senior year. Those interested in the Lisbon or Dublin dual degree programs will spend their first year at USD, years two and three abroad, and return for their final full year at USD.
"This program is not for everyone, but it specifically targets students who like a challenge, want to expand themselves culturally and are well-prepared for it," says Stephen Conroy, PhD, associate dean for undergraduate programs in the School of Business and economics professor. "It is going to push students to grow in areas even they may not expect."
Conroy says that students who earn a dual degree can raise their profile professionally and personally. He's interested to see how students adapt and how they'll impact their foreign institution since they will have time to settle into the campus culture instead of a quick one semester exchange program.
"Professionally, we're improving our English fluency and we're trying to adapt to the lifestyle of the American people because they have a different mindset," Fernandez says. "I know we will go back to Spain with a broader picture of everything. You can't have that if you don't go abroad."
Students have to adapt to different curriculum and are expected to do an internship through both institutions, the latter potentially inspiring USD students to look at job opportunities outside the U.S.
"These students will be attractive to employers because they have a deeper understanding of another culture," Conroy says. "The experience itself provides a signal to employers that they've undergone the struggle of living away from home for two years and become a little more mature because they've shown they can handle the difficulty and difficult times. It is a lot of fun, too, with the culture, history, architecture, music, people and language. It's a richness of education you can't get from studying only in the U.S. or being abroad."
Rey, who enjoyed his fall classes and the hands-on, practice-based learning, immersed himself into the campus community. He signed up for the USD Entrepreneurship Club, an investment banking club and seeks to join Beta Theta Pi's USD fraternity chapter. He is also working for USD Catering. He's been meeting many new people and together with "our family," his fellow Comillas graduates, they're introducing new people they meet to the others to expand everyone's reach.
"If I were a student thinking about doing the dual degree program, they should go for it. You'll one hundred percent regret what you don't do. I'm having the time of my life here. I'm enjoying every minute," he said.
— Ryan T. Blystone
Map
5998 Alcalá Park
San Diego, CA 92110