MSRE Recruitment Trip to Paris and Germany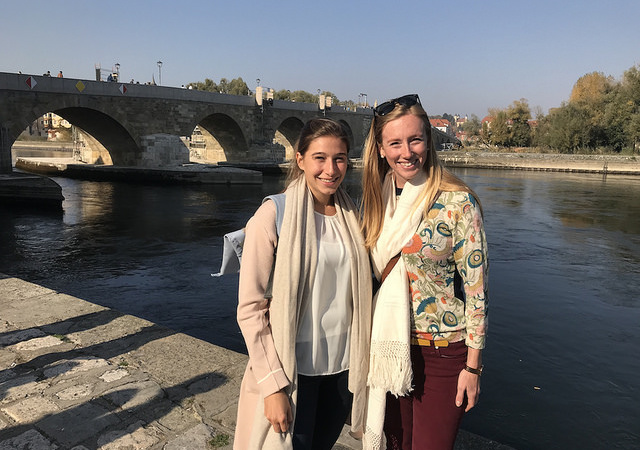 The Master of Science in Real Estate (MSRE) program at the University of San Diego School of Business offers several dual degree programs which can be combined with the MSRE degree (MBA/MSRE, JD/ MSRE and an international option for German real estate students). The USD School of Business entered into an International Agreement with a university in Regensburg, Germany in 2015.
Students enrolled in IRE|BS International Real Estate Business School Universität in Regensburg, Germany, are eligible to pursue a MSRE degree at the University of San Diego (USD) School of Business. Students begin their education at IRE|BS and arrive at USD in late summer for their second year.
Situated in south-east Germany at the confluence of the Danube, Naab and Regen Rivers, the University of Regensburg was the first public university in Germany to offer a complete, interdisciplinary teaching and research in the field of real estate, and IRE|BS is one of the largest institutions in Europe offering study real estate, covering all industry-specific features of real estate and real estate companies.
Marina Koelbl '17 MSRE was the first student to complete the dual degree program. Johannes Hummel '19 MSRE and Mareike Grebener '19 MSRE are currently pursuing the USD's MSRE portion of the dual degree this academic year.
In mid Oct., Ashley Adams '10, '17 MA, community outreach and Master of Science in Real Estate recruitment manager, traveled to Paris, France and Regensburg, Germany. While in Paris, Ashley met with two prospective MSRE students. In Germany, she presented at the IRE|BS study abroad information session for students. Ashley also met with a prospective student in Germany. While on her visit, Ashley also connected with Marina Koelbl '17 MSRE and Carina Kaiser, both of whom are pursuing their PhD at IRE|BS. Carina is serving as the study abroad coordinator for the IRE|BS master's students. Between her meetings and presentation, Ashley explored the historic city of Regensburg on a walking tour with Marina and Carina.
"The favorite part of my annual trip to Regensburg is that I am able connect with prospective students on an individual level, which is especially meaningful for our international applicants," says Ashley. "I have the opportunity to present all that USD has to offer in a group setting and am also able to meet with prospective students one-on-one. Choosing to pursue graduate education internationally is a big decision, and these meetings are crucial to working through any concerns that arise, answering their specific questions, and setting the foundation for a potentially life-long relationship with USD."
View photos of Ashley's trip.
Map
5998 Alcalá Park
San Diego, CA 92110