University of San Diego MBA Program Leaps Up in Bloomberg Businessweek Ranking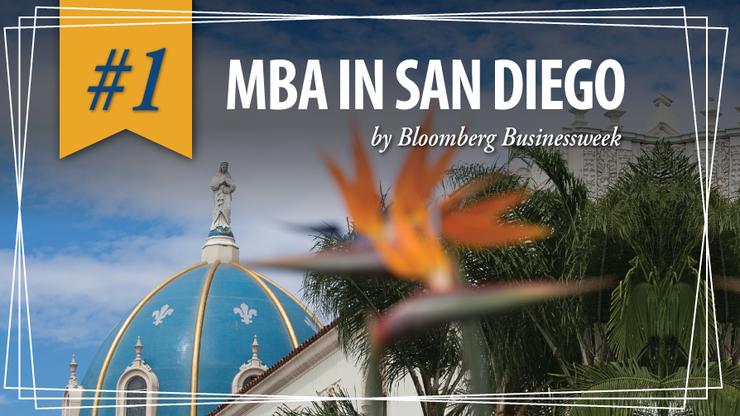 The University of San Diego MBA is among the top 100 programs in the United States, according to Bloomberg Businessweek. USD's MBA program leaped an impressive twenty-one spots from last year, ranking #60 in the nation, #7 in California, and #1 in San Diego by one of the nation's preeminent business publications. The program also debuted at #72 in Bloomberg Businessweek's first global ranking.
The University of San Diego MBA performed particularly well in entrepreneurship, quality of student learning and networking, ranking #32 in the U.S. for entrepreneurship, #49 for student learning and #51 for networking.
USD's MBA program offers coursework co-designed with corporate partners to provide the expertise employers are looking for in their executive hires. The program also offers small class sizes, consulting projects with major organizations around the world and a cohort format to help students make lifelong professional and personal connections with faculty and classmates.
"This recognition is a tribute to the success of our graduates and the student-centric passion of our faculty and staff," said University of San Diego School of Business Dean, Jaime Gomez. "Our robust learning environment includes small classes, cutting-edge curriculum, global networking opportunities, entrepreneurship training and support, and multiple international learning opportunities; it definitely catapults our graduates for sustained success in the business world."
The University of San Diego Full-Time MBA program can be completed in 17 or 22 months. For more information visit www.sandiego.edu/mba.
Map
5998 Alcalá Park
San Diego, CA 92110