Burnham-Moores Center's Office Remodel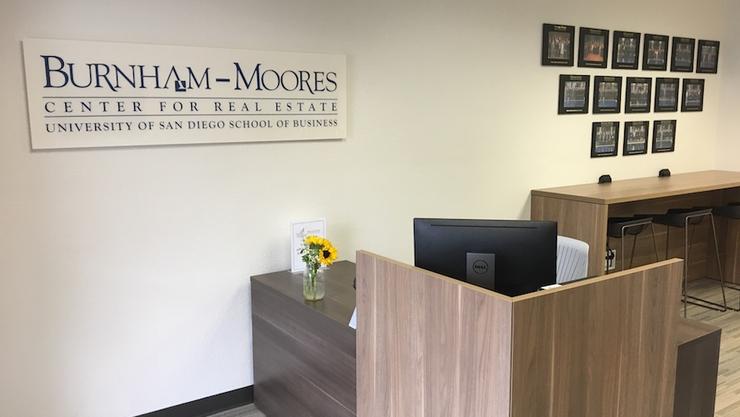 In late August, the Burnham-Moores Center for Real Estate (BMC) completed a long-overdue office remodel. After more than 20 years, the space, where real estate students come to study and obtain career coaching and mentoring, was greatly in need of a facelift. As a "center for real estate," Stath Karras, executive director of the BMC, felt that the space needed to be brought up to a level of quality and design consistent with industry expectations. He set forth a mission to provide students with an updated, happy, welcoming environment on the lower part of campus where the center is located. The BMC team was equally ecstatic to learn of Stath's plans to update the space.
"The entire project from concept to completion took four months, which included obtaining all of the necessary university approvals and contract agreements," says Stath. "It was all made possible because of the incredibly generous office furniture donation from William Kuhnert, CEO of bkm OfficeWorks and the exceptional remodel work completed by the University of San Diego's facilities crew. It would not have been possible otherwise."
Located in UTC, bkm OfficeWorks has been shaping corporate environments throughout San Diego since 1989. Their 23,500 square foot workspace solution dealer showroom is the largest of its kind throughout San Diego and they have a 70,000 square foot warehouse on Miramar Road. Their office furniture solutions focus on products that are high in recycled content, reusable and sustainable, which is supports the university's recyclable high standards.
During the renovation, the BMC team got to experience working in an open-space environment, as we all congregated into the MSRE classroom in a tight, shared-space environment. The BMC team was incredibly excited to move back into the newly refreshed space at the end of August, just in time to welcome students at the start of the 2018-19 academic year. We invite you to drop-in and visit the Burnham-Moores Center for Real Estate soon.
View before and after photos of the new BMC office space.
Map
5998 Alcalá Park
San Diego, CA 92110