Taylor Stack '19 MSRE Awarded NAIOP Diversity Student Scholarship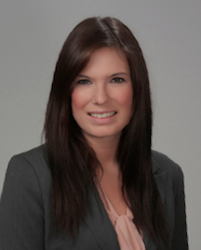 In May, NAIOP, the Commercial Real Estate Development Association, announced the 2018 recipients of its diversity student scholarship. As a component of NAIOP's strategic initiative to promote diversity in commercial real estate, the scholarship program supports students who are pursuing a degree in commercial real estate. NAIOP awarded four $5,000 graduate student scholarships and two $2,500 undergraduate scholarships to individuals from demographics that are traditionally underrepresented in commercial real estate and whose universities are part of the NAIOP University Membership Program. Congratulations to Taylor Stack '19 MSRE for being selected as one of the 2018 recipients.
We recently interviewed Taylor to learn more about her experience as a Master of Science in Real Estate (MSRE) candidate and why she is pursuing a career in real estate.
Q: Why did you decide to pursue the MSRE program and a career in real estate?
A: I was at a point in my life where I was ready to make a career pivot into the real estate industry. After joining San Diego State University's Real Estate Society, I began to gain interest in the field. Upon completing my undergraduate degree, I began working in retail operations and expansion. I knew I wanted to advance my skill level and expertise before entering the job market, so I researched Master's in Real Estate programs. The University of San Diego School of Business MSRE program really stood out to me as being one of the best in the nation and made for an easy choice when it came time to making a selection.
Q: What do you like best about USD's MSRE program?
A: The faculty and staff at the University of San Diego School of Business, and especially at the Burnham-Moores Center for Real Estate, take a special interest in ensuring all candidates excel throughout the program and into their professional careers. The professors provide a rigorous course load, but offer students the resources and flexibility they need to succeed.
Q: What advice would you give to other women interested in pursuing a career in real estate?
A: There are always going to be occasions in your life when you have to push yourself outside of your comfort zone. The real estate industry will benefit by breaking down the boundaries that have caused an underrepresentation of women and minorities in the business. At the end of the day, we are all in the classroom, out at company happy hours, at industry seminars to grow our network, and become more well-rounded real estate professionals.
Q: What was your experience with the real estate scholarship process and what would you tell other students interested in scholarships?
A: The Burnham-Moores Center team makes it really easy for undergraduate and graduate real estate students to gain supplemental academic funding. Scholarships are offered in an organized fashion on an online portal and eligibility requirements are clearly outlined. Further, the Burnham-Moores Center team is available to review scholarship opportunities and encourage the utilization of the vast resources available to students.
Q: What are your short-term and long-term goals? Dream job?
A: I'm currently having a really great time learning and growing from the knowledgeable real estate professionals at the Port of San Diego. Their passion is to serve the community, while also maintaining a business mind-set. It is a fun, memorable, and innovative place to work. In the future, I hope to gain enough experience to become a valuable asset on the real estate development side of the business.
Q: Tell us about fun fact about yourself?
A: I have a weakness for cute fluffy animals. My friends and family are constantly worried I am going to show up at home with another rescue. I currently have two adorable fur children (lab mixes) who are the stars of my social media platforms!

Map
5998 Alcalá Park
San Diego, CA 92110